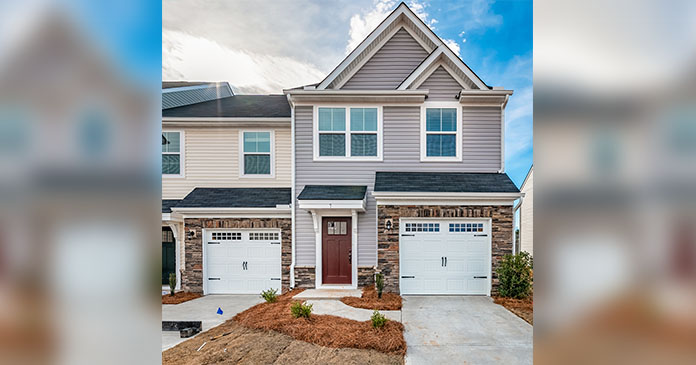 Haven Realty Capital (Haven) continues to build its Single-Family Rental (SFR) portfolio closing on the completed first phase of a $30.6 million acquisition of Harrison Landing Townes, a 166-unit purpose-built rental townhome community now under construction in Greenville, SC.
Harrison Landing Townes is being developed by a national homebuilder on an 18-acre site at 106 McGuires Place in Simpsonville, SC 21 miles SE of downtown Greenville. Each of the two-story, 1,564-square-foot townhomes feature three-bedrooms, two-and-a-half baths, attached garage, luxury vinyl plank floors, stainless-steel appliances, granite countertops, tile backsplash and nine-foot ceilings on the first floor. Community amenities include a dog park, playground and walking trail.
The remaining homes will be acquired in phases from the homebuilder over the next 15 months. The project is expected to be fully stabilized by June 2022.
Since October 2020, Haven has added 10 Dedicated Rental Communities (DRC) to its expanding portfolio in Georgia, Illinois, North Carolina, and South Carolina totaling approximately 1,000 homes. The firm plans to increase its pipeline of controlled DRCs from $300 million to $1 billion over the next 24 months, according to Principal and Head of Acquisitions Chris Turritto.
"We have a robust pipeline of deals, particularly in the Southeast, where we will be buying both single-family detached homes and townhome subdivisions," said Turitto. "Our decade of experience in the single-family rental sector, along with Haven's homebuilding relationships and an institutional investor base with a strong appetite for the asset class, uniquely positions us to build scale over a short period of time."
Haven partnered with CenterSquare Investment Management to acquire Harrison Landing Townes.
"The investment aligns well with our conviction that the single-family rental sector will continue to experience tailwinds and benefit from the favorable demographic trends," added CenterSquare Vice President of Private Real Estate Chris Picyk.