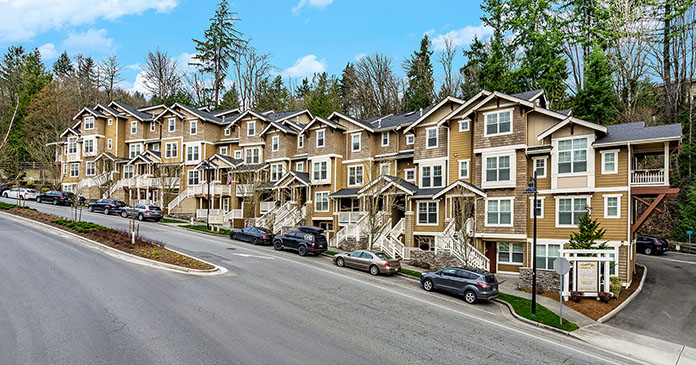 Calabria, a multifamily property located at 2000 NW Talus Drive in Issaquah, Washington, has sold for $9,000,000 ($450,000 per unit) to a local apartment investor, Fourth Avenue Capital. The seller, Pacifica Companies out of San Diego, California, was represented in the transaction by Dylan Simon, Jerrid Anderson, and Matt Laird of The Simon and Anderson Team, a multifamily investment sales team at Kidder Mathews.
Calabria is ideally located in the rapidly growing Talus neighborhood overlooking the Issaquah Valley. The property consists of 20 condo-quality units constructed in 2009, with half being three-bedroom townhome units with expectational layouts and market-leading finishes. The sale demonstrates investors' increasing desire for Eastside multifamily investment opportunities, as the property sold for $450,000 per unit at a 4.6 percent cap rate on in-place operations. Calabria offers considerable upside for the buyer through management efficiencies and raising below-market rents and ultimately provides the buyer with the opportunity to capitalize on renters' strong demand for well-located housing on the Eastside.
"Calabria is a very rare investment opportunity in the region's hottest market, East King County, and we feel the buyers will be rewarded for the well-timed purchase," said Anderson.