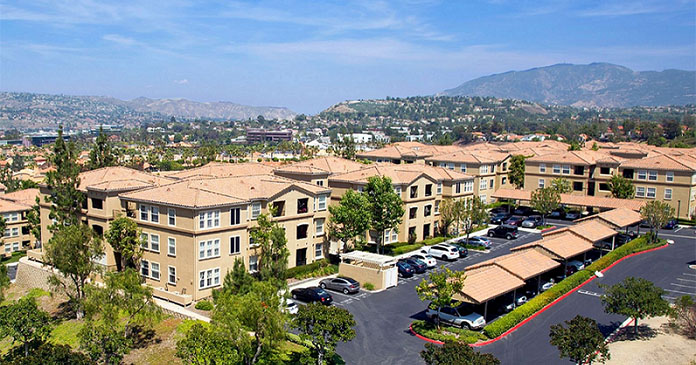 Avanath Capital Management, LLC, a private real estate investment manager and Registered Investment Adviser, has acquired its second senior housing community in Orange County in less than 90 days, Overlook at Anaheim Hills in Anaheim Hills, California.
The 261-unit mixed-income senior apartment community was purchased for $87.5 million.
"Overlook is our second acquisition in our home county of Orange County over the past few months," says Daryl Carter, Founder, Chairman and CEO of Avanath Capital Management. "Overlook at Anaheim Hills is a senior community, which is a very attractive property as the aging Baby Boomer generation is continuing to downsize and look for quality housing options that are also affordably priced. In fact, the Anaheim market has an exceedingly limited senior housing supply and increasing call for units. Compared to newer senior construction that is closer to the Pacific Ocean, Overlook provides a more affordable option, larger units sizes, and is located in a highly desirable location."
Built in 2001, Overlook consists of seven three- and two-story garden-style buildings with an average unit size of 751 square feet. The property is located adjacent to Anaheim Hills Festival Center, which contains a movie theater, grocery stores, shopping, and restaurants. It also features a variety of community amenities including a community center, clubhouse, business center, pool and spa, fitness center, and billiard room, among other features.
"Senior housing communities are also strategically positioned to continue to perform despite the pandemic as many residents' income comes primarily from social security and pensions; therefore, they are not as reliant on a paycheck," says Carter. "Beyond this, by maintaining affordability at the community, we can provide long-term housing security to residents."
According to Carter, at nearly 100 percent occupied, the property boasts occupancy and collections that have historically remained strong even throughout the pandemic.
"Vacancy averaged 2.51 percent from 2017 to 2019 and 1.68 percent over the last 12 months," says Carter. "This historical data represents the strong area demand, quality of the property, and stability within the affordable and multifamily housing space, which is why this property was very attractive to us and aligns with our ongoing strategy."
Avanath plans to implement a variety of capital improvements to the property including renovating the clubhouses and community spaces and adding a dog park, as well as incorporating sustainability initiatives to reduce the property's carbon footprint and generate energy savings.
"As an impact investor, we place a significant emphasis on ESG," says Carter. "We also plan to add a variety of social programs at the property including free virtual gym memberships to residents, which will allow residents to exercise at home while COVID-19 continues."
Overlook at Anaheim Hills is located at 145-235 South Festival Drive in Anaheim, California.