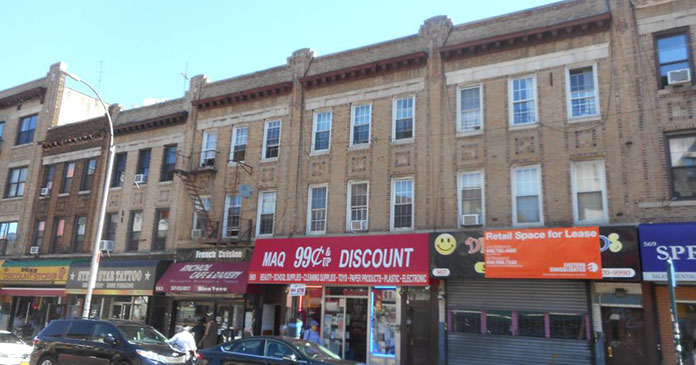 GFI Realty Services, LLC announced the $3.55-million sale of 563-565 Nostrand Avenue, two adjacent three-story mixed-use buildings consisting of eight free market apartments and two ground floor retail units, located in the Crown Heights section of Brooklyn. GFI Realty Associate Zachary Fuchs represented the seller, Chaim Streicher, and Kobi Zamir, also of GFI Realty, represented the buyer in the transaction, Mao Kai Zheng.
The 6,378-square-foot building is composed of four one-bedroom and four two-bedroom units, and two stores. It is also ideally situated in close proximity to numerous subway lines as well as Prospect Park.
"Residents continue to be drawn to Crown Heights due to its location, relative affordability, 'neighborhood feel', and the strong demand from renters will enable the buyer to add value to this property," said GFI's Fuchs.
"The buyer saw the value in acquiring an asset in a prime location surrounded by numerous neighborhood amenities," said Zamir. "The property is also conveniently located and is easily accessible to Manhattan. The buyer intends to hold onto to this property for the long term."
Located between Atlantic Avenue and Pacific Street in the heart of Crown Heights, just blocks away from the Brooklyn Museum, the Brooklyn Botanic Garden, and the Brooklyn Children's Museum. The property is also conveniently centered within blocks of the A, C, 2, 3, 4 and 5 trains, providing convenient access to many neighborhoods in Brooklyn and Manhattan.
Attractions including the Barclay's Center, Atlantic Terminal, and the Brooklyn Academy of Music are a short drive or transit ride away.