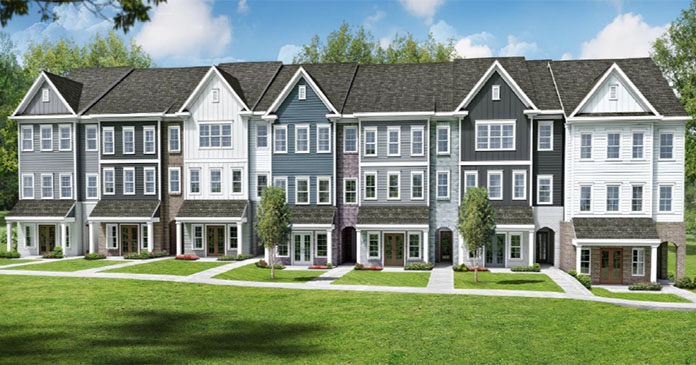 Trez Capital, a private real estate lender helping to create quality projects across North America, provided a $12 million loan to fund development and construction of a new luxury townhome rental community in suburban Atlanta.
The borrower is Sweetwater Landing, LLC. Ben Jacobson, Brett Forman and Scott Mehlman, from Trez Capital's Palm Beach, Florida office, originated the loan.
Sweetwater Springs Townhomes will have a mix of two and three-bedroom units with two-and-a-half baths.  Features include walk-in closets, wood-like plank flooring and full-size stackable laundry units. The community will offer a variety of amenities, such as a playground and activity area, covered gazebo, complimentary access to neighborhood pool, grilling stations and a dog park. The project helps meet a demand for quality residential rental housing in the market.
Sweetwater Springs is located at 1510 Duluth Highway, Lawrenceville, Georgia, about 30 miles northeast of downtown Atlanta.
"Sweetwater Springs has spacious units with high-end finishes and first-class amenities that bring a level of sophistication to the development and community at large," said Jacobson. When you combine that with the excellent location, I believe this development is going to be extremely successful and be a catalyst for additional growth."
"We remain committed to quality residential projects with strong borrowers. We are dedicated to delivering creative, entrepreneurial and long-term solutions for developers," said Brett Forman, Executive Managing Director, Eastern U.S., Trez Capital. "This borrower has an impressive record building homes in the Atlanta metro area."
Trez Capital is ramping up its lending activity in the Atlanta region.  In early April, it hired longtime real estate finance professional Caperton Putt to lead its Atlanta office on Peachtree Road. The office is particularly targeting residential lot development, multifamily and industrial lending opportunities, while continuing to be the leading provider of creative investment solutions.
Notable transactions closed by Trez Capital include the $25.5 million first mortgage for the acquisition and renovation of a downtown Atlanta hotel and $26.7 million acquisition and construction loan for a 67-acre mixed-use project and entertainment center known as the Exchange at Gwinnett in Buford, northeast of Atlanta.
Trez Capital provides short-term debt and equity financing typically between six months and 36 months in term ranging from $5 million up to $100 million in loan value.