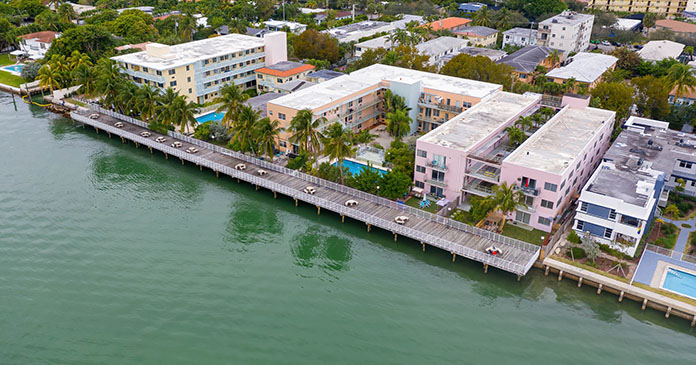 Cushman & Wakefield announced that the commercial real estate services firm has arranged the sale of Marina Del Rey, a 108-unit apartment community located in Miami Beach, Florida. The final sale price was $24.5 million.
Calum Weaver, Garrett Pordes, Robert Given, Zach Sackley and Troy Ballard of Cushman & Wakefield represented the seller, Finvarb Group, in the transaction. 1006 Bay Drive LLC acquired the property.
"Marina Del Rey is one of the few Miami Beach waterfront rentals," Weaver said. "The unique opportunity to acquire over 100 waterfront value-add units created a significant amount of investor interest. None of the units have been upgraded, allowing a new owner tremendous revenue upside with a comprehensive value-add program."
Located at 1006-1022 Bay Drive, Marina Del Rey is situated with over 400 feet of direct water frontage with expansive views of Biscayne Bay and Miami. Miami Beach provides immense barriers to entry for rental units with limited land, construction costs and more attractive condo development scenarios.