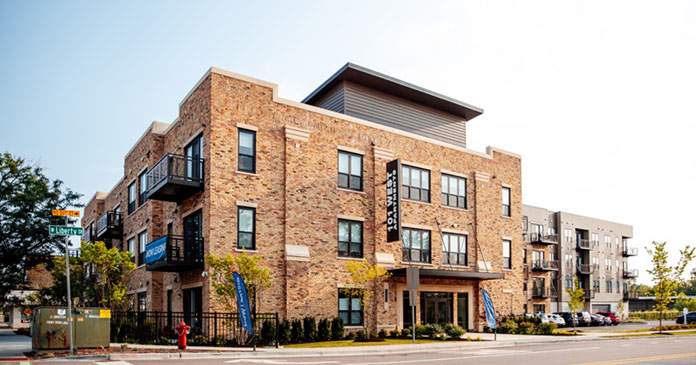 JLL Capital Markets announced it closed the $20.75 million sale of 101 West, a trophy apartment community located in the sought-after suburb of Barrington, Illinois, which is about 40 miles from Chicago.
JLL worked on behalf of the seller, Monroe Residential Partners, LLC, to complete the sale to the buyer, HP Ventures Group, LLC.
"HP's properties feature high-quality, large units located in Chicago's outlying neighborhoods and suburbs," said Steve Cook, HP's Managing Partner. "These attributes attract HP's target market of tenants and have become even more important as the trend of work from home has accelerated. We think that the Chicago area offers excellent investment opportunities and 2021 is a year of significant growth of our property portfolio."
101 West totals 62,818 rentable square feet and consists of 64 one- and two-bedroom units, averaging 982 square feet. Units tout modern design with condo-quality fixtures, including spacious master suites, walk-in closets, stainless steel appliances and quartz kitchen countertops. 101 West also features high-end community amenities, such as a community room with kitchen lounge, fireplace and TVs, a rooftop terrace with grilling areas, 24-hour fitness center, pet grooming and washing station and heated indoor garage parking.
Located at 101 W. Liberty St. in Lake County, the apartments are very transit-orientated, boasting a Walk Score of 81, and being just a 10-minute walk to the Barrington Metra Station. Barrington is a 45-minute drive to Downtown Chicago's employment hub and has direct access to over 650,000 jobs within surrounding submarkets.
A strong performing submarket, there are no projects under construction or proposed within a five-mile radius of the property. Additionally, according to JLL's latest Multi-Housing Outlook, the Chicago market is showing signs of recovery as of Q1 2021. The report also states that Chicago is one of the most diverse large economies in the nation, which tends to lead to a strong recovery, with many companies relocating and continuing to invest in the city.
The JLL Capital Markets team representing the seller was led by Senior Managing Director Marty O'Connell, Senior Director David Gaines, and Director Kyle Butler.
"We continue to see pent-up capital, both private and institutional, earmarked for advantageously located suburban luxury multihousing assets with easy access to commuter train lines and highways and located in affluent markets with strong demographics," said Butler. "Investor groups like HP Ventures deploy a 'hands-on' approach, managing all of their own properties themselves which allows for the opportunity to obtain high quality boutique investments like 101 West."
JLL Capital Markets is a full-service global provider of capital solutions for real estate investors and occupiers. The firm's in-depth local market and global investor knowledge deliver best-in-class solutions for clients—whether investment sales advisory, debt placement, equity placement, or a recapitalization. The firm has more than 3,700 Capital Markets specialists worldwide with offices in nearly 50 countries.