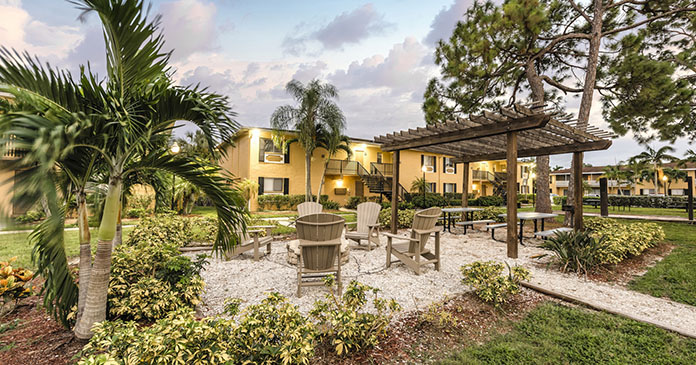 Real estate investment firm ZMR Capital (ZMR) has acquired Park Place Apartments, a 338-unit multifamily community in Fort Myers, Fla. in an off-market transaction for $44.5 million.
Park Place is ZMR's seventh investment in Florida but marks its entry into Fort Meyers, a market that annually ranks among the top three in the state for population growth. The continued migration into Florida and specifically the Fort Meyers submarket make it a great time to get more active in the market, according to ZMR CEO and Co-founder Zamir Kazi.
"Our goal is to invest approximately $250 million in Florida over the next 24 to 36 months," Kazi said. "It's more competitive now than it has been over the last 20 years, but as a Florida-based investor, we are very familiar with the market and we can use the relationships we have forged over the years to find and acquire assets like Park Place."
Park Place features a mix of studio, one-, two- and three-bedroom floorplans. With more than 50 percent of the units in their original condition Park Place represents a prime value-add opportunity for ZMR. The firm will launch a multi-million dollar capital improvement plan that includes the installation of in-unit washers and dryers, new stainless steel appliances, upgraded countertops and cabinetry, premium backsplash and new plank flooring. Improvements will be made as units roll.
Originally built as two separate apartment communities and later converted as one, Park Place lacked cohesiveness and sense of community, according to Kazi.
"Our renovation plan will include exterior paint, landscaping and new signage to help address this problem," Kazi said. "Other common area upgrades will include a complete refurbishing of the property's three pools and deck areas, and the addition of outdoor kitchens, barbecue areas, and a children's playground."
Park Place is located at 4637 Deleon Street, in a multifamily-friendly market that is closed to schools, local shopping, dining, and entertainment venues. Further driving demand will be the $347 million renovation of the nearby Gulf Coast Medical Center which will add a significant number of new jobs to the market.
Mike Regan of CBRE Tampa Office represented ZMR and the seller.