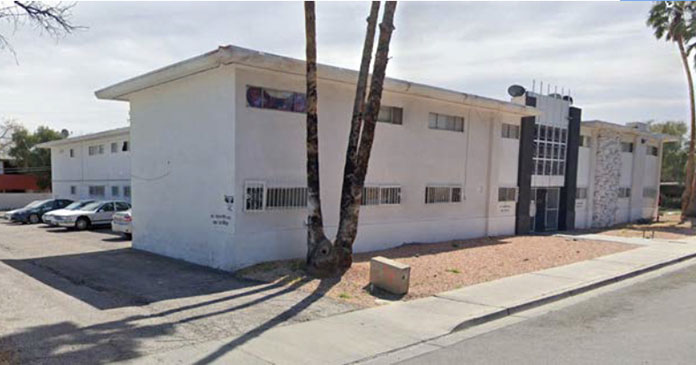 Camino Verde Group, a Las Vegas-based real estate investment, development and asset management company, has acquired Camino 2630 Apartments in Midtown Las Vegas. The community, located at 2630 Sherwood Street, is the fifth vintage apartment building that the firm has purchased to refurbish in the neighborhood.
"Las Vegas is experiencing a lack of rentable units right now, so it's vital to renovate these apartment buildings and get them back on the market to be leased," said Kevin Romney, co-founder and managing director of Camino Verde Group. "This is our fifth property that we have acquired in the community. With these acquisitions, it's our hope to help restore Midtown Las Vegas living spaces in order to bring this once thriving neighborhood back to life."
The 20-unit apartment building was originally built in 1965 and features two stories of spacious one and two-bedroom floor plans. At the center of the community is an outdoor courtyard, gated to provide additional security.
Camino Verde Group plans to renovate Camino 2630 Apartments with roof repair, renovations to the courtyard and landscaping, fresh paint, air conditioning unit repairs or replacements, renovations to the plumbing and electrical systems, repairs to the stuccos and concrete, updated security system and signage.
"The building is more than 50 years old and needs some significant renovations," Romney said. "When we acquire neglected properties like this one, we make the needed repairs and updates in order to bring them back into a condition that makes them both safe and comfortable for residents."
The community is just a short drive away from some of the city's top employers, including the Convention Center, the recently opened Resorts World, The Westgate, the iconic Strat tower, Fremont Street Experience and the Fashion Show Mall.
Public transportation is a convenient short walk from Camino 2630 Apartments, including the Westgate Monorail Station that can take passengers to the heart of Las Vegas near the McCarran International Airport.