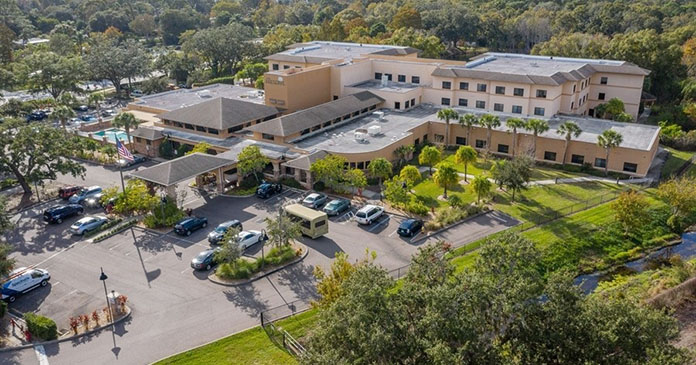 JLL Capital Markets announced that it closed the sale of The Preserve at Clearwater, an assisted living and memory care property located in Clearwater, Florida.
JLL represented the seller, a joint venture between Solera Senior Living and Elkco Properties, to complete the sale to an experienced institutional investor. The buyer plans to retain Solera as property manager post-closing.
The Preserve at Clearwater is a 2012-vintage, 82-unit property that sits on a scenic 11.4-acre parcel of land. The building is LEED Silver-Certified and is highly amenitized, including a private dining lounge, bistro lounge, beauty and barber shop, library, business center, auditorium, arts and cooking studio and fitness and rehabilitation centers. Outdoor amenities include a pond viewing area with a fire pit, walking paths and a heated swimming pool with additional therapeutic whirlpool features.
The memory care and assisted living community features include three chef-prepared meals a day, concierge services, housekeeping, laundry service, scheduled transportation and 24-hour assistance from staff.
"Our team members at The Preserve have worked hard to provide a top-tier community and experience for the residents of Clearwater and the surrounding markets," said Stephen F. Elken, President of Elkco Properties.
Adam Kaplan, CEO of Solera, stated, "Solera is excited to continue operating the building. We also appreciate our relationship with JLL. They ran an excellent process, helped us select a quality buyer at great terms, and ushered the deal towards closing."
The JLL Capital Markets team representing the seller was led by Senior Director Joel Mendes and Managing Directors Mike Garbers and Cody Tremper.
"The Preserve at Clearwater has performed admirably over the last 18 months, which is a testament to the strength of Solera and Elkco, as well as the onsite staff," said Mendes. "It's a pleasure to close this transaction with Solera and Elkco, and we feel confident the property remains in good hands."
According to JLL's latest Seniors Housing & Care Investor Survey and Trends Outlook, investors and operators are increasingly bullish as they collectively prepare for the influx in demand driven by population growth in the older demographic.
JLL Capital Markets is a full-service global provider of capital solutions for real estate investors and occupiers. The firm's in-depth local market and global investor knowledge deliver best-in-class solutions for clients—whether investment sales advisory, debt placement, equity placement, or a recapitalization. The firm has more than 3,700 Capital Markets specialists worldwide with offices in nearly 50 countries.