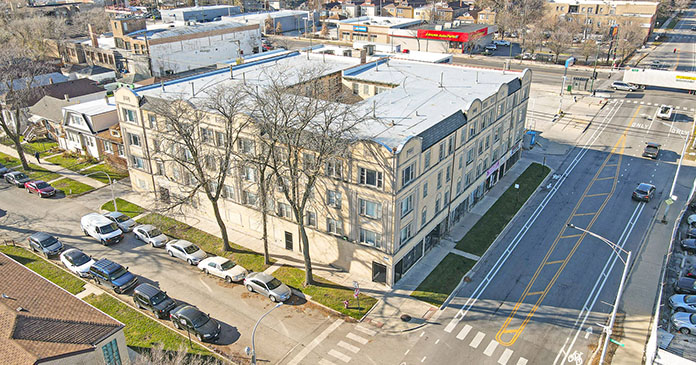 Interra Realty, a Chicago-based commercial real estate investment services firm, today announced it brokered the $2.9 million sale of 6710 S. Claremont Ave., a 55-unit mixed-use building in Chicago's Marquette Park neighborhood that includes six retail spaces on the ground floor and 49 apartments. The price per unit was nearly $53,000, one of the highest ever for a mixed-use building in the submarket, per CoStar Group.
Interra Managing Partners Ted Stratman and Lucas Fryman, co-founders and Principals David Goss and Jon Morgan, and Director Jeremy Morton represented the seller, a local private investor. Marketing the asset to its national network, Interra was able to secure multiple competitive offers near list price. The winning buyer, a private out-of-state investor also represented by the same Interra team, plans to upgrade units as they turn over and may add a cell tower to the building, generating additional income.
"Even in a lesser-known submarket like Marquette Park, well-priced, cash-flowing multifamily and mixed-use assets can attract national interest," said Stratman. "Despite the strains of the pandemic, buildings in these neighborhoods continue to offer steady income and the chance for long-term appreciation, especially if improvements are made that increase occupancy and rents. Investors were quick to see the opportunity and competed for the chance to add these buildings to their portfolio."
6710 S. Claremont was the last in a 10-building, 260-unit portfolio marketed by Interra on behalf of the same owner. It included properties in Marquette Park, South Shore and Auburn Gresham. Many of the individual sale prices set records for their respective submarkets, and the buildings together fetched a total of $16 million from multiple buyers across the U.S.
Built in 1928, 6710 S. Claremont includes 46 one-bedroom and three two-bedroom units, which were 95 percent occupied at the time of the sale.
6710 S. Claremont is walkable to shops and restaurants on Western Avenue and is less than a mile from the 315-acre Marquette Park, whose recreational amenities include a nine-hole golf course and driving range. In addition, the property is served by several CTA bus lines, including those that connect to the Orange and Red lines for service to downtown and Midway International Airport.