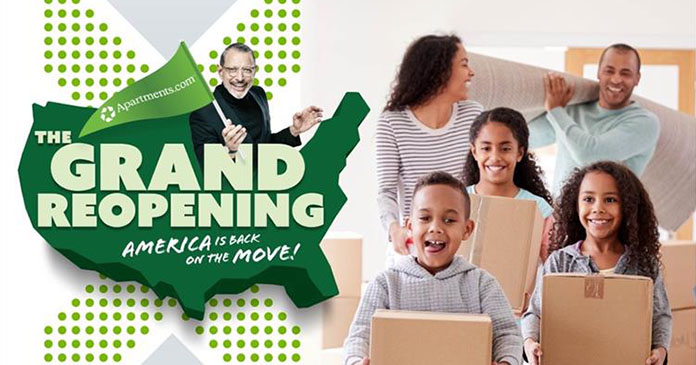 Waves on the beach aren't the only thing making a splash this summer. There's a surge of renters about to pack up and move to new apartments. A recent Apartments.com survey of over 35,000 renters overwhelmingly suggested that they're ready to get out and get moving—only one in five renters said they plan to stay in the same community when their leases expire.
Renters are optimistic about the future
Many renters were hesitant to move in the past 18 months, but now they're optimistic enough about the future that they're ready. 41 percent of renters we spoke with told us they plan to move this summer, and 58 percent of them said they plan to move this year. They're doing their research online and narrowing their choices faster than they did pre-COVID, but are also ready to visit leasing offices and prospective homes in person.
"I feel a lot safer now going out in public and looking at apartments and meeting with the staff whereas I did not feel safe before or some communities didn't allow it," one renter explained in the survey. The ability to once again see spaces for themselves is moving residents to make decisions: our survey indicated that renters expect to find a space they love and sign a lease an average of 10 days faster than they did before the pandemic.
Upgrades are on the horizon
Another reason renters are looking to move? To obtain more space. With the rise of remote work, one survey respondent shared that they were looking for room "to easily fit the equipment and storage necessary for a home-based business." Others honed in on the ability to "relax and have a good time in nature."
After ample time to think about their next place, renters know what they want and are ready to make a change to their current living situation. In addition to more space, they're looking to upgrade to another place, and some are even looking for a change in lifestyle.
What the new wave of renters means for your community
So, what does this mean for you and your community? Our continuing priority is supporting and investing in your communities. Afterall, we've helped over 40 million people find homes. Plus, our marketing investments, including advertising during the 2021 Olympics, will drive even more renters to see your communities, and recent product enhancements have made it easier than ever to convert prospects into residents.
Now is the time to have the biggest and best presence on Apartments.com, the nation's #1 rental network. The Grand Reopening has already begun, so make sure you stay fully leased.