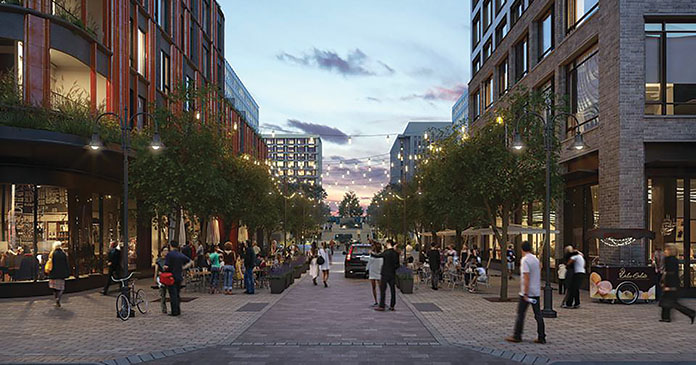 The pandemic put urban areas into a tailspin with workers fleeing office space and residents looking for more comfortable, remote living spaces.
At the same time, the pandemic also created massive growth opportunities for some employers, like Amazon. That growth is just one lever moving the company into more office space in Arlington County, Va. Over the next decade it will add close to 25,000 jobs to the area.
With those jobs comes the need for talent. But, how can the company attract talent without the right place to live?
That's the question real estate developer JBG Smith asked when sketching out plans for the mixed-use project, National Landing, that currently offers 6.8 million sq. ft. of office space and 2,856 residential units. More than 800 more residential units are under construction, and there is an additional 7.2 million sq. ft. open for development.
In addition, JBG Smith is serving as development partner for Amazon's 4.8 million sq. ft. second headquarters and as master developer for Virginia Tech's $1 billion Innovation Campus.
The attraction to 5G
One thing that makes the development unique and attractive is its foray into 5G.
"It's a digital placemaking exercise," said JBG Smith's CEO Matt Kelly. "We're very different from a lot of tech companies that are doing it so that they can access the data. We want to make digital infrastructure for our customers so that the customers want to come here. Inevitably, they will use the connectivity to serve their customers as well."
Kelly describes the project as a city within a city, with an area the size and scale analogous to downtown Austin.
The development has a keen focus on placemaking to create an attractive physical environment, which in Kelly's view means finding the right partners. So, JBG Smith started with AT&T to roll out a smart city at scale that includes 5G operability with distributed high-speed wireless and redundant fiber networks.
With 5G services, compute capabilities can be very close to the edge device in proximity, explains Shiraz Hasan, the vice president of partner ecosystem and innovation at AT&T.
"In this particular location, there are virtual data centers that can take care of compute needs locally without having it go to a data center across town," he said. "So, it improves application performance significantly, doing this with hyper scalers."
Once it is set up properly, the compute capabilities of 5G can be made available to tenants. For instance, retailers at the National Landing can leverage the infrastructure for more security and accuracy while performing transactions. Then, a retail shopper can use a 5G device to look at a t-shirt or shoes and be able to visualize them on a person by using a picture of them on the device. This type of unique immersive experience inside a retail location could help brick and mortar retail survive the pressures of ecommerce.
A movie-goer can have an immersive experience in the lobby of a movie theater by interacting with holographic actors who were in the movie they just watched. In terms of healthcare, 5G will give specialists the ability to perform tasks from remote locations so that they don't have to get on a plane.
"Surgery would be the ultimate goal, but we aren't there yet," Hasan said. "Healthcare needs to work out liability before that. Right now, we're taking baby steps."
And, looking at more current, household level trends, market research firm Parks Associates forecasts that mobile-only households will decline as fixed broadband networks expand.
Mobile-only probably won't disappear completely, because it's easy and affordable, but Parks believes it will not grow beyond 13 percent of U.S. households, and the percentage of mobile only households may decrease with the growing availability of affordable home broadband options enabled by new wireless technology, like 5G.
Consumers also now own a greater number of internet-connected devices, and each of the devices requires its own internet connection in order to function properly. Plus, devices work best over a dedicated connection to the home, not a mobile hotspot.
On average, consumers own 13 connected devices; 15 percent of broadband households own more than 6 smart home devices; and 74 percent have a home network router.
The pandemic also highlighted the importance of broadband connections. According to Parks Associates 2020 COVID-19 study, 53 percent of consumers value broadband service more than they did 6 months ago. The firm estimates that U.S. broadband providers added 5.2 million new subscriptions in 2020.
Why here and now?
JBG Smith is making a big bet on urban life in the time when many have been migrating to the suburbs.
"We are seeing it reverse itself now," Kelly said. "Urban rents have recovered to what they were before the pandemic."
But the fundamentals of this move and investment in the space was that there isn't enough housing to accommodate the demand. Even after JBG Smith develops the thousands of units it has in the pipeline, there still won't be enough.
With Amazon's anticipated job growth in that area in the next decade, more than ten times the housing that JBG has planned needs to be considered.
The 5G partnership with AT&T will offer this new residential component the speed, ubiquity and security to work from home comfortably. Kelly is excited to offer it as an amenity to residents there.
"The use cases are limitless," he said. "We don't even know what it will help us with tomorrow today. It's all of those types of digital amenities that will be incredibly attractive to the consumer and enable us to perform better as a landlord."
In speaking to Kelly about the return on investment for JBG, he explained that the company put capital out front and invested in rights to use the CBRS spectrum. JBG controls fiber assets in partnership with Arlington County, along with AT&T to roll out other layers of infrastructure in or on local buildings, and as virtual assets.
The company is also looking at joint ventures for physical components. Kelly anticipates developing edge data centers that will require space in the neighborhood while giving residents access to faster processing power. He also explained that there will be direct financial returns from it; however, the much bigger return will be enhancing the environment and making it a place where more customers will want to be.
"It's like leasing space to an amenity that you know your customers want," he said. "You might make a return, but you are making the kind of environment that is attractive, where tenants are more likely to stay because it provides everything that they need."
Despite the incredible demand and additional amenities, real estate research and data company Zonda doesn't anticipate a rent increase in that market. The firm is watching big employers and the jobs that they bring to local areas, including requirements to hire locally.
A key to the residential projects in those developments is making them work from home ready. Zonda sees that one- and two-bedroom units are performing better than one-bedroom studios because people need the space to work from home.
One of the property managers operating at National Landing is coliving manager and developer of Common. Common will manage a 216-unit coliving component of the building, with rents starting at below $1,000 per month for fully furnished apartments—a price well below the area's average.
The company's research also shows an increase in mixed-use development right now, with more developers imagining projects with components to live, work and play.
Dan Doyle, SVP and COO at the real estate development group, The Beach Company, says that the new dependence on working remotely and changing lifestyle preferences is driving his company to mixed use.
"Residents are attracted to mixed-use communities for their convenience, walkability and live-work-play mentality," he said.
"The on-site retail and dining that mixed-use communities provide help sustain a mutually beneficial relationship between retail owners and residents."
"Because resident foot traffic helps sustain retail offerings at mixed-use developments, they often perform better in economic downturns than stand-alone retail businesses. Additionally, repeat business and opportunities to build community-based customer loyalty provide an advantage for commercial offerings."
The Beach Company is primarily developing in smaller markets where amenities like 5G are not in the plans, but still are increasing options to deliver better connectivity. However, Doyle points out that the technology isn't as important as the human connection.
"Amenities such as state-of-the-art health and wellness studios, rooftop pools and lounges, pet parks, electric car charging stations and plenty of parking are attracting residents who prioritize the convenience that mixed-use communities offer," he said.
Doyle sees cities taking a more active role in attracting companies with factors such as the availability of residential offerings, new construction, low cost of living and quality of life.
The Beach Company recently completed its headquarters in Charleston in a waterfront mixed-use project, called The Jasper, that includes luxury office space, 219 multifamily units, and 25,000 sq. ft. of retail space.
"I'm most excited about the things that I cannot even conceive of now," Kelly said about National Landing. "Companies will come here specifically to innovate in a live theatre environment that has all the normal obstacles and interference of a high-density community, but where you have to navigate all kinds of things like busy sidewalks and busy streets and noise."
"The solutions for being best in class have to wrestle with those very issues."

---
Excerpt Jennifer Castenson, Zonda