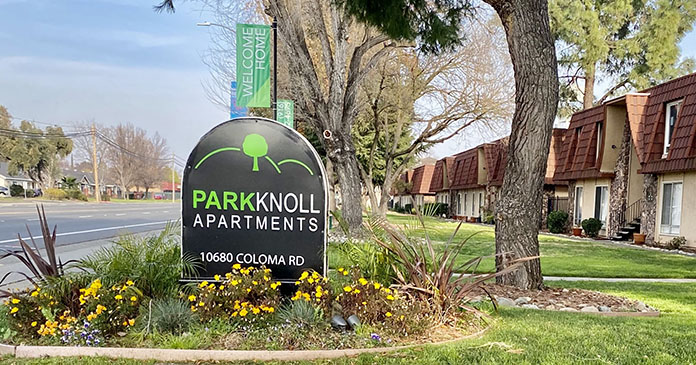 Transwestern Real Estate Services (TRS) announces the team of Shivu Srinivasan, Robert Dau, Dante Giacomini and Connor McGarty represented both parties in the sale of Park Knoll Apartments, a 160-unit multifamily community at 10680 Coloma Road in Rancho Cordova, California. FPA Multifamily acquired the asset from an undisclosed seller for $25 million, or $156,000 per unit.
"Park Knoll Apartments has a strong in-place cash flow with considerable upside potential, making it an attractive investment opportunity for new ownership," said Srinivasan. "Transwestern was able to negotiate excellent terms, timing and a competitive sale price for both the buyer and seller, resulting in a seamless transaction."
The garden-style multifamily community features amenities such as a pool, dog park and on-site laundry. Park Knoll Apartments, which offers convenient access to Highway 50 and Interstate 80, is 20 miles from Sacramento and within driving distance of the Bay Area, Lake Tahoe and the Central Valley.
"Sacramento has experienced a surge in demand for quality, affordable multifamily units due to the high cost of living in nearby metropolitan cities," said Srinivasan. "In addition to its affordability, the private and public job sectors in Sacramento are strong, making it an attractive market for professionals."
Year to date, Transwestern's San Francisco Investment Services and Multifamily Sales team has brokered several transactions in greater Sacramento and the I-80 corridor, totaling over 500 units with a combined value over $100 million.