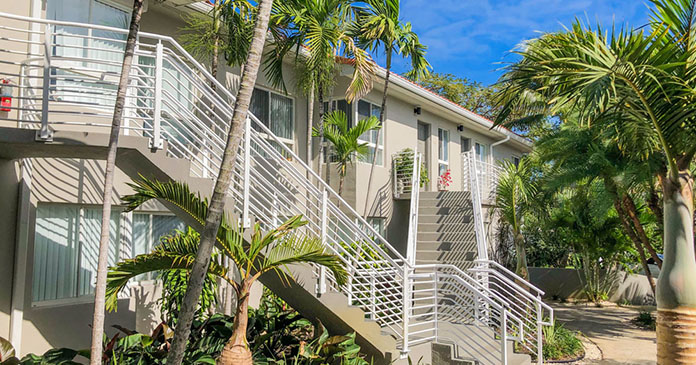 Franklin Street has arranged the acquisition of a value-add multifamily portfolio consisting of four properties and 43 units in Fort Lauderdale. The 100 percent occupied, 33,557-square-foot portfolio traded for $10.3 million, or $239,535 per unit.
Franklin Street's Dan Dratch, Greg Matus, Travis Jones and Ryan Wold, with the firm's South Florida Multifamily Investment Sales Team, represented Victoria Park Investors, LLC, a Los Angeles-based investment firm, in acquiring the portfolio from South Florida-based The Grand Capital.
The portfolio includes the following properties:
Victoria Breezes, a 16-unit property at 701 NE 16th Ave.
Ocean Breeze Apartments, an 8-unit property at 1725 NE 7th St.
Tennis Court Apartments, a 9-unit property at 627-631 NE 10th Ave.
The Coco Palm, a 10-unit property at 312 NE 15th Ave.
"This portfolio achieved strong per unit and per square foot pricing due its prime location in the Victoria Park submarket and proximity to downtown, Las Olas Boulevard and the beach," said Dratch.
Franklin Street also provided Capital Advisory and Insurance Services for the buyer. Joseph Landsberg arranged a 65 percent loan-to-value, 10-year, fixed-term loan with five years interest-only from a national balance sheet lender. Evan Seacat and Bradley Cassidy arranged the insurance policy.
Seacat, who serves as Regional Managing Director for Franklin Street in Fort Lauderdale, added, "Our full-service approach to this deal, involving collaboration across several of our business lines, allowed us to provide a smoother experience for both the buyer and seller."
Across the four properties, the unit mix consists of (19) units with one bedroom and one bathroom, (18) units with two bedrooms and one bathroom, (2) units with two bedrooms and two bathrooms and (4) studio apartments. Most of the residences feature fully upgraded interiors including vinyl flooring and stainless-steel electric appliances. In the past few years, the portfolio has received over $400,000 in capital improvements.
Situated just off US-1, the properties are all within a mile from one another and offer convenience to numerous restaurants, bars, shops, parks and galleries.