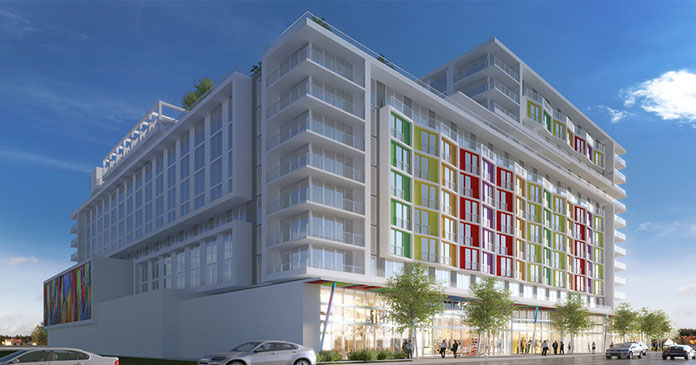 Trez Capital, a private real estate lender helping to build better communities across North America, funded a $78,197,393 construction loan for a 323-unit mid-rise apartment building in Miami's emerging Allapattah neighborhood. The borrower is Neology Life, a development company led by Lissette Calderon, who has focused her work transforming the Miami River district.
Trez Capital Managing Director Ben Jacobson originated the loan, which closed on October 12, 2021. Construction has already begun, with the project set to be delivered in mid-2023.
Allapattah sits just northwest of downtown Miami and abuts the famed Wynwood district to the east, offering easy access to major highways and employment centers. The 12-story project, known as The Julia, is located at 1625 NW 20th St. The name pays homage to Julia Tuttle, known as the "Mother of Miami", who is credited with being the only female founder of a major American city.
The building will feature a mix of one- and two-bedroom units ranging in size from 586 square feet to 892 square feet. Residents will have access to a host of amenities including a pool with cabanas, rooftop garden with outdoor living, fitness and wellness center, coffee bar, dog park and virtual concierge.
"Lissette Calderon is a pioneering developer who has been extremely successful revitalizing the Miami River district and now breathing new life into Allapattah, one of Miami's oldest neighborhoods," Jacobson said. "We are delighted to partner on this exciting project by providing financing for a development that is sure to capture intense interest from the public."
Groundbreaking for The Julia comes just months after Calderon delivered her first apartment in Allapattah, a 13-story, 192-unit attainable luxury project called No. 17 Residences.
The multifamily market continues to sizzle in South Florida, with rent increases expected to grow between 8 percent and 9 percent over the next year, according to CoStar Group.  Another report from Realtor.com says South Florida is the third-fastest growing rental market in the U.S.
"When we evaluate lending opportunities, we focus on the needs of a community and the track record of the developer," Jacobson said. "Partnering with Lissette and understanding her vision, we think Allapattah is perfectly positioned to attract nearby working professionals and families who desire a certain level of luxury living but are priced out of places like Brickell, downtown and Wynwood."