CBRE recently released its 2022 U.S. Real Estate Market Outlook report. It forecasts that 2022 will be a very good year for the multifamily housing business.
Economy on path to normal
CBRE expects that the post-pandemic economic rebound will continue in 2022 with GDP rising by 4.6 percent. This is slightly faster than the 3.7 percent rate of growth than Fannie Mae predicted in its latest forecast. GDP growth is expected to fall below 3 percent in 2023 before dropping to the long-term trend rate of around 2 percent in 2024 through 2028.
CBRE expects that the recent spike in inflation will be temporary. They predict that it will begin to subside in the second half of 2022, although it will remain slightly above the Federal Reserve's target of 2 percent through the end of 2023.
The spike in inflation is expected to cause the Federal Reserve to phase out their asset purchases by the middle of 2022 and to begin raising interest rates soon after. CBRE expects the yield on the 10-year Treasury to reach 2.3 percent by the end of 2022.
Outlook for multifamily as an investment
CBRE forecasts that ample available funds and the expectation that the Federal Reserve will start raising interest rates will drive investment in commercial real estate higher in 2022. They predict that investment in multifamily properties will rise from $213 billion in 2021 to $234 billion in 2022.
CBRE also predicts that net operating income (NOI) for multifamily properties will rise 8 percent during the year. They expect that cap rates for multifamily properties will remain relatively stable during 2022, despite an expected rise in the 10-year Treasury yield. This is shown in the chart below, which is reproduced from the report.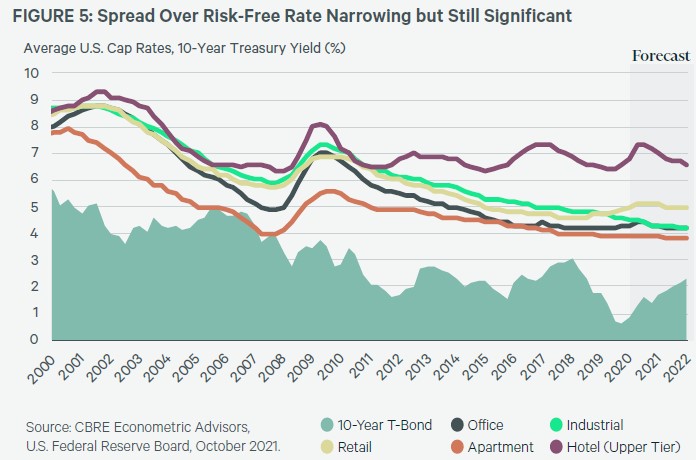 Outlook for multifamily as a business
The report foresees strong fundamentals for the multifamily housing business in 2022. It anticipates 7 percent growth in effective rents and continued low vacancy rates. While urban vacancy rates rose during the pandemic to levels well above those in the suburbs, CBRE expects that both urban and suburban vacancy rates will fall to 4 percent by the end of 2022.
CBRE suggests that there are opportunities in urban Class A properties. These were hard hit early during the pandemic but they are expected to rebound as offices reopen and people return to the cities.
Single-family rentals are another asset class to watch. Here, demand is expected to be driven by Millennials starting families.
A final note
Sprinkled throughout CBRE's report are references to environmental, social and governance (ESG) issues and how ESG considerations may impact aspects of the commercial real estate business. CBRE is not the only organization now focusing on ESG, indicating that ESG considerations may become increasingly significant over the next few years.
The full also report discusses other commercial property types. It is available here.