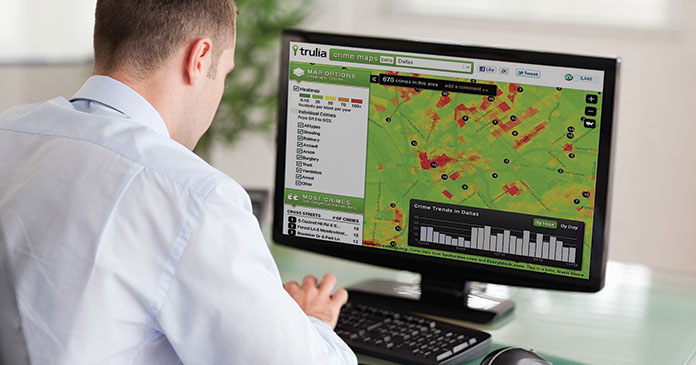 When looking at a listing, users of Realtor.com and Redfin will be provided information about local school districts, walkability, and availability of public transport, but can no longer have the option to evaluate crime on either platform.
David Doctorow, CEO of Realtor.com, said the change to the website came as part of an effort to "level the playing field and rethink the safety information we share on Realtor.com and how we can best integrate it as part of a consumer's home search experience."
"At this time of complexity in real estate, our team has been energized by our purpose to simplify real estate choices, especially for first-time homebuyers," he said in a statement. "Yet we keep bumping up against one very old and persistent problem: the ability to afford and own a home can be unjustly limited by one's race, ethnicity, or other personal characteristics."
The crime map layer was removed from Realtor.com in December. Doctorow noted the company plans "to rethink" what safety information is shared.
"In the weeks and months ahead, we plan to examine closely what neighborhood safety means for buyers and renters who use our site so we can reimagine how we integrate safety data on Realtor.com," he said. "Our goal is to ensure we are providing consumers with the most valuable, fair and accurate neighborhood data so they can make informed decisions about where they want to rent or purchase their next home."
Christian Taubman, the chief growth officer at Redfin, also announced in December that neighborhood crime data will no longer be displayed on its website.
In a post titled "Neighborhood Crime Data Doesn't Belong on Real Estate Sites," Taubman said crime data does not indicate safety.
"The data available don't allow us to speak accurately to that question, and given the long history of redlining and racist housing covenants in the United States there's too great a risk of this inaccuracy reinforcing racial bias," he wrote.
Redfin's crime layer used information from the Uniform Crime Report from the Federal Bureau of Investigation as well as the National Crime Victimization Survey from the Bureau of Justice Statistics, a survey Taubman says is plagued by possible "racial bias in respondents' answers."
"There are troubling signs of this: in the 2019 survey, people reporting crimes were more likely to describe their offender as young, male, and black than would be expected given the representation of those groups in the population," he said.
Taubman said the change was part of the website's ongoing review of its features.
"Each and every time we add data to Redfin.com we will consider the accuracy and likely impact of that change," Taubman said. "Sometimes that will result in us deciding not to add data to the site, and sometimes that will result in us deciding to add the data."
Efforts to stave off potential racial insensitivity of bias have been expanding among real estate professionals. Earlier last year a group of realtors pledged to drop the term "master bedroom" because they said it had possibly racist implications.
---
Source Hannah Claire Brimelow, Timcast.com