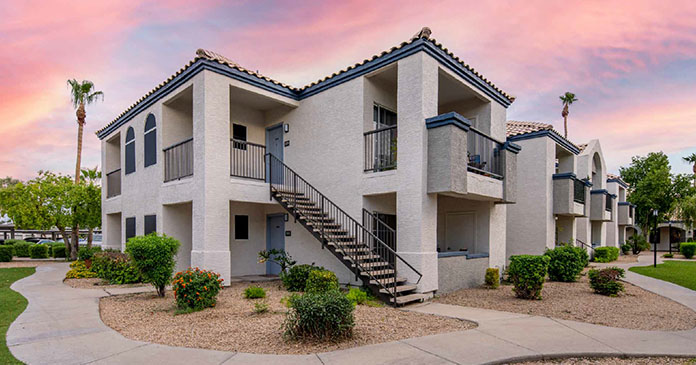 Davlyn Investments, a prominent California-based, multifamily investment firm, recently closed escrow on the $112,500,000 purchase of The Boulevard, a 294-unit, luxury, multifamily community in Phoenix, Arizona. The property, which will be re-branded "Boulders at Lookout Mountain," was constructed in 1994 and marks Davlyn's third acquisition in Arizona. The IPA team of Steve Gebing and Cliff David represented the Seller. Eric Flyckt of Northmarq Capital arranged debt, which was provided by New York Life.
Aaron Pacillio, Chief Investment Officer of Davlyn Investments, described the investment as follows, "Boulders at Lookout Mountain presented an opportunity to acquire a high-quality asset in a submarket with strong economic fundamentals. The property offers desirable attributes, such as central heating and air conditioning, in-unit laundry, wood-burning fireplaces, walk-in closets with built-in shelving, arid landscaping, plentiful parking, and an expansive community amenity package. It features low density, two-story construction situated on 16.7 acres. Further, the property is walkable to several major retailers, grocers, restaurants, and an adjacent greenway walking path. More recreational trails are located nearby at Lookout and Shadow Mountains." Aaron added, "This exceptional foundation, coupled with our renovation plan, will ultimately allow us to provide one of the best apartment experiences in North Phoenix."
Jon Williams, CEO of Davlyn Investments, stated, "Due to increasing business and living costs in most western markets, Phoenix attracts an upwardly mobile population that gravitates toward markets that offer a high-quality, affordable lifestyle. In addition, its income growth of 44.2 percent since 2010 compares very favorably against all other high-growth western markets. Boulders at Lookout Mountain's benefits greatly from access to the Deer Valley and I-17 employment corridors. Notable among firms expanding into North Phoenix, is Taiwan Semiconductor Manufacturing Company, which recently began constructing a $12.0 billion chip fabrication plant. Several chip component producers will, by necessity, need to be nearby."  Williams continued "This acquisition is clearly consistent with our long-term investment strategy to acquire well-located, quality apartment communities throughout the Phoenix Valley."
Boulders at Lookout Mountain follows Davlyn's recent acquisitions in Chandler, Arizona and North Las Vegas, Nevada, bringing Davlyn's total acquisition activity over the past 30 days to over $300 million. Davlyn Investments is a San Diego-based owner/operator of apartment communities throughout California, Arizona and Nevada. Since its founding in 1993, the firm has acquired over $1.7 billion in real estate assets. The company is headed by Jon Williams and Paul Kerr.