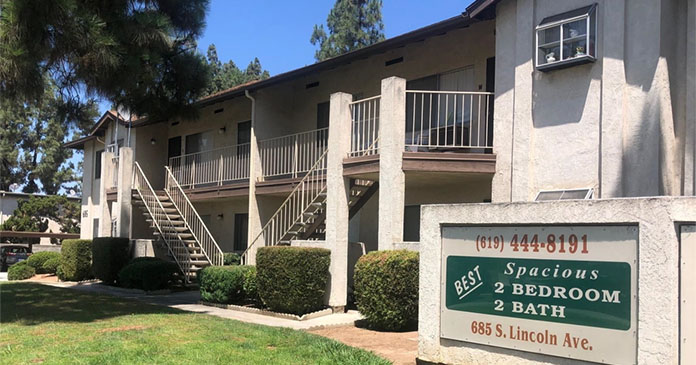 Stos Partners, one of the most active commercial real estate investment and management firms in Southern California, recently acquired Lincoln Washington Apartments, a 25-unit multifamily property in the El Cajon submarket of San Diego County.
This off-market transaction is part of a strategic expansion of the firm's multifamily investment portfolio, according to CJ Stos, Principal of Stos Partner.
"This property aligns perfectly with our investment strategy through which we acquire, reposition, and operate well-located properties that are poised to deliver long-term value," says Stos. "We plan to perform a full rehabilitation of the asset including exterior and interior renovations, as well as develop an additional 26th unit at the community, a value-add component that we've successfully completed at a previous project."
In Stos Partners' effort to strategically grow its multifamily holdings and acquisitions platform, the team recently brought on seasoned multifamily investment professional Sean Giffin as Vice President of Multifamily Acquisitions, who leveraged his deep experience and connections to secure this asset off market.
"This property presents an excellent opportunity for value creation, as well as a very flexible hold strategy," says Giffin. "While we are expecting to hold this property long-term for cash flow, our nimble positioning gives us the option to exit sooner if needed, depending on market conditions. I look forward to continuing to grow with Stos Partners and identifying more communities that dovetail well with their proven strategy and market expertise."
Jay Boyle, Executive Vice President of Stos Partners, adds that this past year, demand in the multifamily market has far outpaced supply, specifically in El Cajon, which has a strong apartment rental market with low vacancies.
"El Cajon has seen a steady increase in population, growing at 4.55 percent from 2017 to 2021, making it a desirable place to invest and capitalize on organic growth," explains Boyle. "We will continue to seek out well-located communities within high-growth submarkets in areas like San Diego, which attract residents based on strong job markets and high quality of life."
Lincoln Washington Apartments, which was purchased for $6 million, is located at 685 S. Lincoln Avenue in El Cajon, California. Benn Vogelsang of South Coast Commercial represented Stos Partners as the buyer in the transaction. Acquisition financing was provided by C3 Bank.