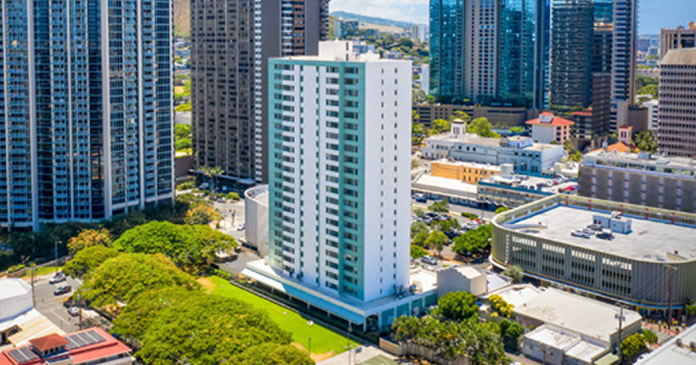 Community Preservation Partners (CPP), a mission-driven affordable housing preservation developer, announced its acquisition of the Smith-Beretania Apartments in Honolulu, a 22-floor high-rise affordable housing complex that houses 164 one- and two-bedroom units, all of which receive subsidy under a Section-8 HAP contract. CPP partnered with local lenders, BlackSand Capital, a Hawaii real estate private equity firm, and Bank of Hawaii to finance the property acquisition, in addition to working with Hawaii affordable housing specialist Ahe Group. Now under CPP ownership, future renovations to the Smith-Beretania Apartments will be financed through the low-income housing tax credit program, which will preserve its affordable housing designation for future decades.
"At CPP, we believe that working with local community partners is essential in bringing about affordable housing projects that make the residents and community proud," said Anand Kannan, president at CPP. "By working closely with BlackSand Capital, Bank of Hawaii and Ahe Group, we were able to execute the deal efficiently and preserve affordable housing for more than 300 residents in a high-cost market. We are looking forward to providing a modern renovation, enhancing social services and building a sense of community for the residents that will last for years to come."
"CPP didn't assume they knew our local community. Instead, they paired their extensive expertise in affordable housing with our intimate knowledge of and commitment to Hawaii," said B.J. Kobayashi, chairman and CEO at BlackSand Capital. "Preserving existing affordable housing in high-cost markets is very important to maintaining communities and ensuring that people have access to adequate and affordable housing; BlackSand Capital is proud to be part of this much-needed affordable housing effort right in our own backyard."
There is an urgent need for preserving Hawaii's affordable housing inventory, especially given the median asking rent on Oahu has risen to $2,100, up from $1,700 within the last year, with Honolulu specifically seeing a 3.9 percent rise in rent. Many families spend more than 30 percent of their household income on housing, and with the increasing cost of food and energy, some 10 percent to 14 percent of Oahu households are late on rent each month, according to U.S. census surveys as reported by the University of Hawaii Economic Research Organization.
CPP will work with Hawaii-based business partners to invest nearly $10 million to rehabilitate the complex, with renovations to include exterior paint, unit turns, energy efficiency improvements, accessibility upgrades and site amenity updates. In addition to the 164 units of affordable housing, the half-acre lot offers a community room, onsite management, laundry facilities, controlled access entry and dedicated parking in the adjacent parking structure. Additionally, the site provides access to a public park with a playground, basketball court, pet park and open green space.