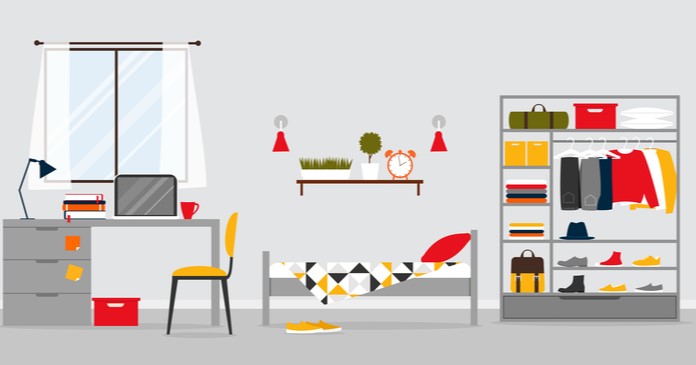 Yardi Matrix released their latest quarterly report covering the purpose-built student housing market. It shows that preleasing performance for fall 2021 and early preleasing for 2022 are running ahead of their paces in the pre-pandemic year of 2019.
Defining the focus
The Yardi Matrix report on student housing is focused on a group of schools it calls the "Yardi 200". The full list of the schools in this group is not specified in the report but they are said to include "all Power 5 conferences as well as Carnegie R1 and R2 universities."
Enrollment slides
Yardi Matrix noted that student enrollment was down 2.6 percent in the fall of 2021 compared to 2020 and down 5.8 percent compared to 2019, based on a report from the National Student Clearinghouse Research Center. The biggest drops occurred for private for-profit 4-year universities and for public 2-year colleges. Graduate enrollment actually rose 2.1 percent in 2021 compared to 2020.
Despite the decline in enrollment, the Yardi Matrix report found that the preleasing rate for the fall 2021 term rose from its level during the previous year. Through September 2021, 94.3 percent of beds were preleased in 2021 compared to only 89.1 percent a year earlier.
Preleasing for the fall 2022 term is currently underway. While the report only includes historical data on preleasing activity since 2019, 2022 currently has the highest percentage of beds preleased through this time of the year of any year covered. Through November, 26.7 percent of beds at the schools Yardi Matrix tracks were preleased. The 2022 preleasing success is also widespread, with only 10 of the 200 schools Yardi Matrix tracks seeing lower preleasing activity for 2022 than they did at the same time for the 2021 school year.
Rent growth is another area where recent results show improvement. Yardi Matrix found that rents per bedroom in December were 2.2 percent above their levels a year earlier, at an average of $791 per bedroom. For comparison, annual rent growth through December 2020 was only 0.9 percent while annual rent growth through December 2019 came in at 2.4 percent.
While the rate of rent growth is improved over last year's performance, it is well behind the rates of rent growth being seen in market-rate rental housing.
Identifying the leaders
Through this point of the 2022 preleasing season, the schools seeing the highest rent growth compared to the same time last year are the University of California, Riverside with 15.9 percent rent growth and 14.9 percent of bedrooms leased, the University of Nevada, Las Vegas with 14.5 percent rent growth and 57.6 percent of bedrooms preleased, the University of South Florida with 13.0 percent rent growth and 26.6 percent of bedrooms preleased and Georgia Institute of Technology with 11.3 percent rent growth and 16.8 percent of bedrooms preleased. Schools must have 4 or more properties in order to make the list.
There are only 4 schools with 4 or more properties in the Yardi 200 which are seeing negative rent growth at this point in the current preleasing season.
Building new supply
Yardi Matrix reported that deliveries of new student housing had been running at more than 30,000 bedrooms per year prior to the pandemic. However, in 2021, deliveries slowed to only 19,000 bedrooms. Yardi Matrix expects a partial rebound in deliveries in 2022, with 25,000 bedrooms being completed.
The 25,000 bedrooms projected to be completed in 2022 are part of the 49,000 bedrooms currently under construction and the more than 135,000 bedrooms under some phase of development at the 200 schools Yardi Matrix tracks.
The school with the most bedrooms currently under construction is the University of Washington, Seattle Campus with 4,245 bedrooms under construction. These units are enough to house 8.8 percent of the student population. Rounding out the top 20 schools for most bedrooms under construction is the University of Georgia. There, 926 bedrooms are under construction, enough to house 2.4 percent of the student population.
Building sales transactions
Yardi Matrix includes information on overall sales volume of purpose-built student housing communities as well as on prices in terms of dollars per bed. This information is summarized in a chart contained in the report and reproduced below.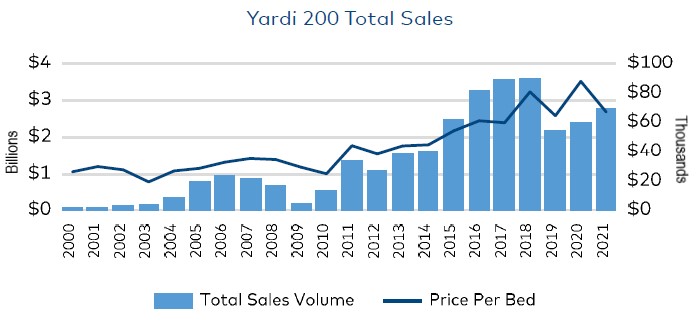 Sales of student housing properties continued to recover from the step back they took in 2019. Sales volume reached nearly $2.8 billion in 2021. The average price per bed fell to $67,000.
Of the top 15 universities by total sales volume, the average price per bed paid ranged from a low of $31,350 at Middle Tennessee State University to a high of $189,200 at Arizona State University – Tempe.
The full report contains the complete tables referred to above with much more detailed information. It can be found here.