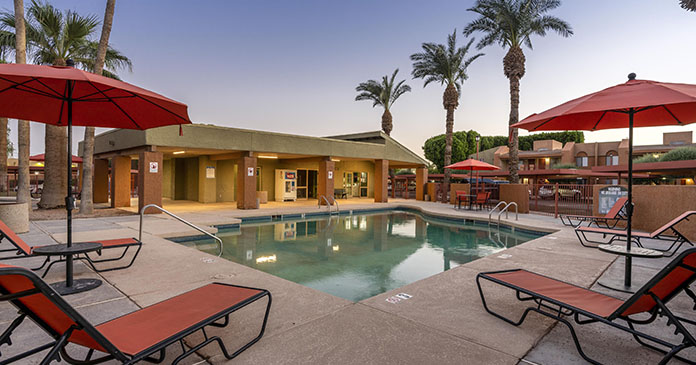 Institutional Property Advisors (IPA), a division of Marcus & Millichap, announced the sale of Regency Square, a 304-unit, two-story, garden-style multifamily asset in Yuma, Arizona. The property sold for $41.5 million, which represents $136,513 per unit.
"Built in 1986, Regency Square has enjoyed consistent ownership for more than 15 years," said Cliff David, IPA executive managing director. "As a result, the property has been meticulously maintained with largely original unit interiors, setting the stage for a full-scope apartment interior renovation strategy supported by the submarket's 10.6 percent year-over-year rent growth and sustained 97.6 percent physical occupancy." David and IPA executive managing director Steve Gebing represented the seller, a private partnership, and procured the buyer, Sundance Bay.
The property is in the geographical center of Yuma with excellent visibility along one of the city's main thoroughfares, U.S. Route 95/Avenue B. The Big Curve and Avenue B shopping centers are part of the 5.8 million square feet of retail within a five-mile radius. Yuma Regional Medical Center is approximately one-mile away and Yuma International Airport is four miles away. Bard Valley Medjool Date Growers, Arizona Western College, and Ramco Enterprises are among the city's many employers.
Regency Square is made up of studio, one-, and 40 percent two-bedroom two-bath apartment homes in 17 residential buildings. Residents have assigned covered parking and access to two swimming pools, a leasing office and clubhouse, basketball court, children's playground, pet park and two laundry care centers.