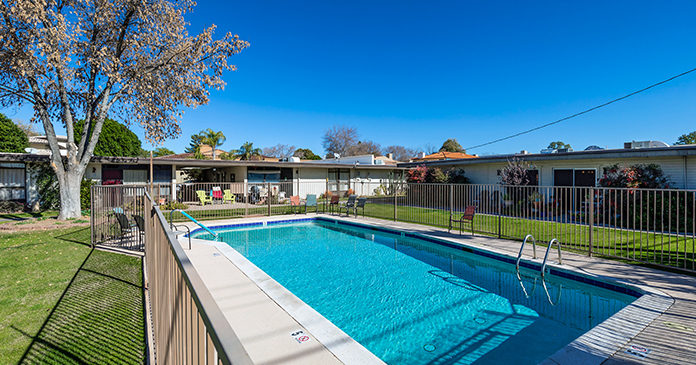 ABI Multifamily, the leading multifamily brokerage and advisory services firm in the Western US, is pleased to announce the $5,000,000 / $312,500 per unit / $313.91 per square foot sale of Villa D'Oro Apartments, a 16-unit multifamily apartment community located at 6540 North Central Avenue, Phoenix, Arizona 85012. ABI Multifamily's Patrick Burch and John Klocek represented the buyer and seller in this transaction.
The buyer is based in Arizona & the seller is based in Iowa.
Villa D'Oro Apartments consists of 16 units, each with two bedrooms and two half-bathrooms connected by a tub/shower room. They are all large 996 SF units with popular mid-century architecture and block construction. All the units are spacious for this era of buildings and have plenty of space to add an interior washer/dryer. Most of the units face a beautiful interior outdoor courtyard area with pool.
Villa D'Oro Apartments sits in the center of the neighborhood known as North Central. This historic North Central neighborhood is a verdant green oasis at the heart of our desert city. The streetscape of tree-lined Central Avenue and the Murphy Bridle Path are listed on both the State and National Register of Historic Places. Most of the residences along the popular walking/jogging path are large-lot, high-end residential housing making this a very rare and desirable investment opportunity. Villa D'Oro Apartments is also a short walk/bike ride to the Uptown Farmers Market, Uptown Plaza, and is a little over a mile to Sam Fox's original The Yard (Culinary Dropout) concept that was the impetus to the massive 7th Street / Restaurant Row revitalization.