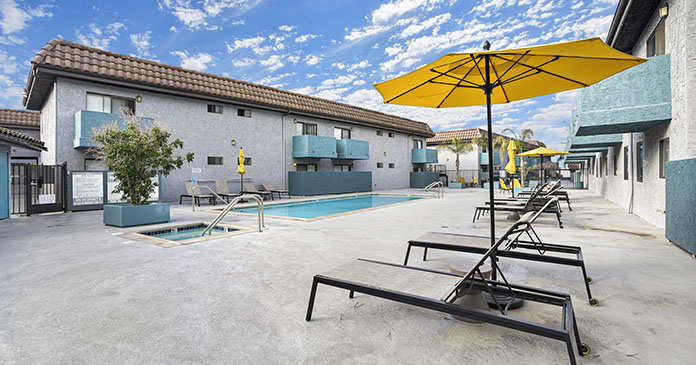 The Mogharebi Group (TMG) representing a Los Angeles based seller, brokered a $47.05 million sale of Fountain View Apartment Homes, a 153-unit community in the Los Angeles County city of Long Beach, California.
Built in 1986, Fountain View Apartment Homes offers studio, one-bedroom/one bath and two-bedroom/two and half bath townhome units housed in 14 residential buildings on a two-and-a-half-acre site. Community amenities include a dog park, swimming pool, laundry rooms, leasing office, storage area, lush landscaping, and garage parking. Fountain View Apartment Homes recently underwent a multi-million-dollar renovation to enhance building exterior, common areas and unit interiors. The property was 98 percent occupied at closing.
At 2301 E. Market St., Fountain View Apartment Homes is in the geographic center of one of Southern California's most significant economic regions.  Residents are within a 20-mile commute to Downtown Los Angeles to the north, the Port of Long Beach to the south, the Silicon Valley beach cities to the west and Anaheim to the east.
"Its proximity to more than one million jobs, and location in one of the most affordable rental markets in coastal Southern California has significantly driven occupancy," said TMG Senior Vice President Mike Marcu. "With a significant supply/demand imbalance and no planned development within a three-mile radius of the property, we were able to demonstrate the potential for future rent growth, which resulted in interest from a broad range of buyers types and ultimately the buyer was a private investor exchange."*