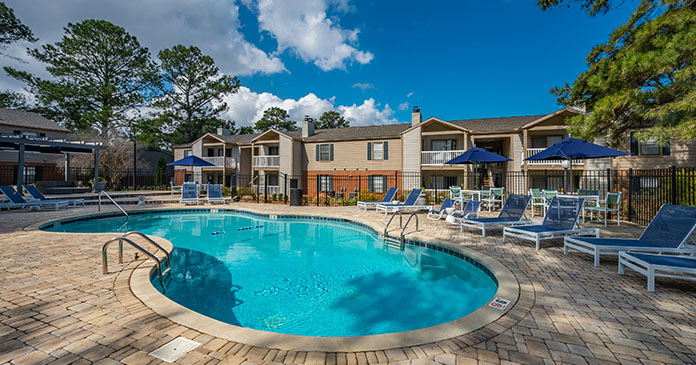 Cushman & Wakefield announced that the commercial real estate services firm has arranged the sale of three Mobile multifamily communities that comprise the Mobile 625 Portfolio – Ashford Place, Huntleigh Woods, and Southern Oaks.
Craig Hey and Parker Caldwell of Cushman & Wakefield represented the seller, StoneRiver Company, in the transaction. The multifamily portfolio was acquired by Highlands Vista Group.
"We sold these three properties to StoneRiver Company several years ago. They successfully implemented their value-add and management plan to generate a great outcome. Highlands Vista Group is purchasing a well-run, quality product below today's replacement cost, in tightening submarkets with rising rents," said Hey, Vice Chair at Cushman & Wakefield.
Built between 1974 and 1983, Ashford Place, Huntleigh Woods, and Southern Oaks are located within one mile of Airport Boulevard, which offers residents convenient access to all of Mobile's employment opportunities, retail amenities, and leisure activities.
These communities were the last remaining assets in StoneRiver's first fund. StoneRiver raised the fund in 2016 to build upon its two-decade track record of acquiring, developing, improving, and operating multifamily real estate. Fund I acquired six communities, totaling 1,315 units, in Georgia, Mississippi, and Alabama. StoneRiver is currently seeking multifamily acquisitions and developments in the Southeast through StoneRiver Investment Fund II, an investment fund that StoneRiver closed in July of 2021.
Cushman & Wakefield's Sunbelt Multifamily Advisory Group is a 95-person investment sales team covering 11 states with No. 1 multifamily market share in that region based on sales volume and transactions reported to CoStar. Per Cushman & Wakefield, in 2021, the group closed $13.8 billion in sales volume through 429 deals and nearly 85,000 units.