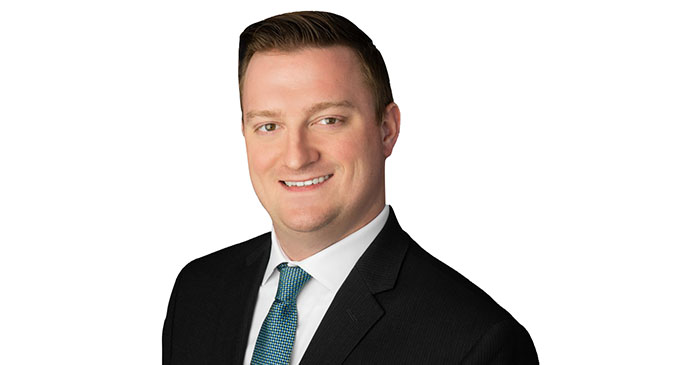 JLL's Valuation Advisory group announced that it has hired Nik Bex, MAI, as Executive Vice President in its Chicago office. Bex will focus on driving growth and building the multi-housing platform in Chicago and the greater Midwest region.
Bex has more than 10 years of real estate valuation experience with a focus on multi-housing and mixed-use assignments for a variety of conventional, GSE, bridge and institutional lenders. He joins JLL from another leading commercial real estate services firm where he was an integral member of the multifamily valuation group and involved in a wide range of properties from Class A towers to small privately owned projects. During this time, he progressed from associate level to one of the region's top producers, consistently increasing production by 20-30 percent per year and being recognized internally as "Appraiser of the Year." Bex previously worked at JLL as a senior analyst at the onset of his career.
"Multihousing has been a favored asset class over the last few years, resulting in record demand from our clients in the space," said Tony Lenamon, Americas Head of Valuation Advisory. "Nik will fill a much-needed role in the Chicagoland and Midwest region and we're excited to welcome him to the team to provide support to our clients in the area."
Bex will report directly to Managing Director Aimee Morgan, who co leads JLL Valuation Advisory's multihousing practice alongside Managing Director Kai Pan. JLL's national multi-housing valuation practice has experienced skyrocketing demand and has grown 85% year-over-year.
"Nik's addition to the team will continue to propel this growth for our practice and position us to provide world class service to our clients in his region," Morgan added. "Our team is rapidly growing and there continues to be opportunity for top talent like Nik to thrive at JLL."
"I am thrilled to be back at JLL in an expanded role," Bex commented. "The key factor in my decision to return was the positive vision that this leadership team is implementing for the Valuation group. In this new role, I will be focused on superior client care, fostering an inclusive and empowering team culture, and utilizing industry-leading tools and technology to make JLL the top multihousing appraisal services provider in the Midwest."
JLL Valuation Advisory is the essential guide to the changing face of real estate values and risk. The group brings together unrivalled human intelligence and experience, with continuous, data-driven insights to uncover a panoramic view of Value and Risk across sectors and geographies.
JLL's 2,000 qualified valuation professionals are connected across more than 50 countries, sharing insights and real-time data to deliver tailored client solutions and advice for its clients' real estate and business asset interests. The team is globally connected but also maintains sector-based expertise and deep local knowledge in every market.
U.S. property valuation and tax consulting services are performed by JLL Valuation & Advisory Services, LLC, a wholly owned indirect subsidiary of Jones Lang LaSalle Incorporated.