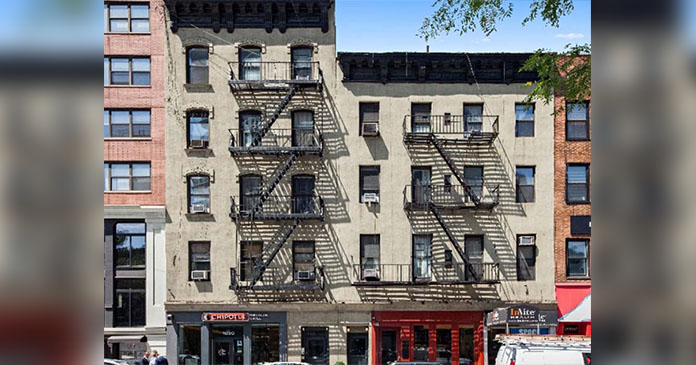 JLL Capital Markets announced that it has closed the $33.75 million trade of a three-building, mixed-use multihousing and commercial portfolio in Manhattan's Lenox Hill neighborhood.
Located at 1026 Third Ave. and 1020-1024 Third Ave., the portfolio was acquired by Kahen Properties, a New York-based development firm led by Jerry Kahen, who is planning a long-term hold.
JLL represented the buyer, Kahen Properties, in the $9.75 million acquisition of 1026 Third Ave. Nick Judson, principal of Judson CRE, represented the seller, Portfolio4 LLC. Additionally, JLL represented the seller, JANS Investment Company LLC, in the $24 million sale of 1020-1024 Third Ave.
1020-1024 Third Avenue is a two-building, 19,375-square-foot property situated between East 60th and East 61st streets. It contains 25 residential units and three commercial units, two of which are vacant and one of which is occupied by Chipotle, the fast-food Mexican eatery with seven years remaining on its lease.
1026 Third Ave. is the former Mathnasium location adjacent to 1020-1024 Third Ave. This loft building is comprised of an exterior ground level restaurant, a second-floor professional space and one duplex residential loft featuring two bedrooms, a home office and 2.5-baths.
The JLL Capital Markets Investment Advisory team was led by Managing Director Clint Olsen and Associate Stephen Godnick.
"The tenant mix and zoning of these properties positions the buyer to capitalize on a fully-recovered rental market in one of the city's most affluent neighborhoods," said Olsen. "Coupled with prime retail space and a choice of transportation options, this value-add portfolio offers substantive long-term growth opportunities."
JLL Capital Markets is a full-service global provider of capital solutions for real estate investors and occupiers. The firm's in-depth local market and global investor knowledge delivers the best-in-class solutions for clients—whether investment sales and advisory, debt advisory, equity advisory or a recapitalization. The firm has more than 3,000 Capital Markets specialists worldwide with offices in nearly 50 countries.