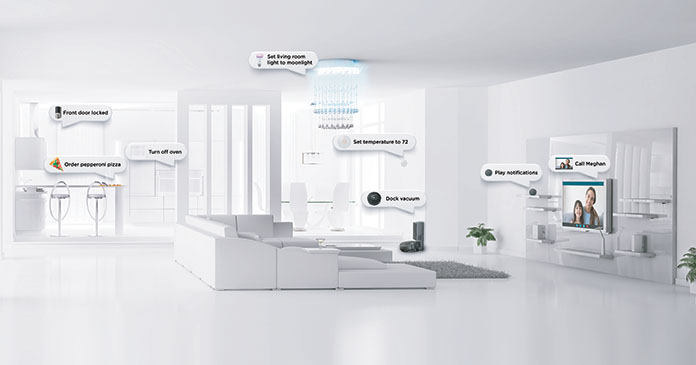 Smart technology is unlocking the door to a better experience for apartment renters, making management's job easier and increasing the value of multifamily assets, say providers of smart apartment technology, the latest industry trend.
Companies like PointCentral, Allegion and Arize that provide this technology to the multifamily space believe there is no better time to boost the image of apartment living by adding smart products. More people are renting today than at any time since 1965 and that number is expected to increase as interest rate
hikes continue to price homeowner hopefuls out of the single-family market.
But it's not just would-be homebuyers who are renting and renting longer. Renters by choice are a growing cohort among both millennials, whose job and lifestyle choices may preclude them being tied to one location by homeownership, and Baby Boomers who are trading costly and time consuming single-family home maintenance for the luxury of amenity-rich apartment life.
Smart apartments are becoming the preferred choice for renters, suggests data from a recent survey by market research and consulting firm Park Associates. Apartment owner/operators who make the switch to smart are banking on residents finding the technology as indispensable as their mobile phones.
"Our smart automation platform is focused on three core pillars," said Mike Branam, director of multifamily sales at PointCentral, a subsidiary of security company Alarm.com. PointCentral launched its smart platform in the vacation space with short-term rentals, then migrated to single-family homes and the multifamily industry.
"We want to drive operational efficiencies for onsite property staff, help owners increase NOI and protect their assets with smart solutions like HVAC monitoring and moisture detection, while enhancing the resident experience. This is one of those rare products that comes along that checks all those boxes," he said.
And when it comes to adding value, 64 percent of apartment owners and managers believe that smart tech more than any other amenity enables them to charge more rent for their apartment units, according to a management insight report released by PointCentral earlier this year.
Smart apartments magnify the cost savings inherent in renting versus owning one's own home. Systems that integrate smart locks, lights, thermostats, HVAC systems and water leak detectors into one platform can help reduce utility bills and create a seamless and enjoyable experience for the tenant.
But the only way to spend less on heating or cooling is to heat or cool less. Smart thermostats accomplish this by using a combination of scheduling, geofencing and motion sensing to learn the best times to turn heat or AC up or down.
"Smart thermostats can lower utility costs by 10 to 15 percent," said Sylvia Crawford, senior director of marketing and planning at Arize, a company that provides integrated smart tech to the apartment industry.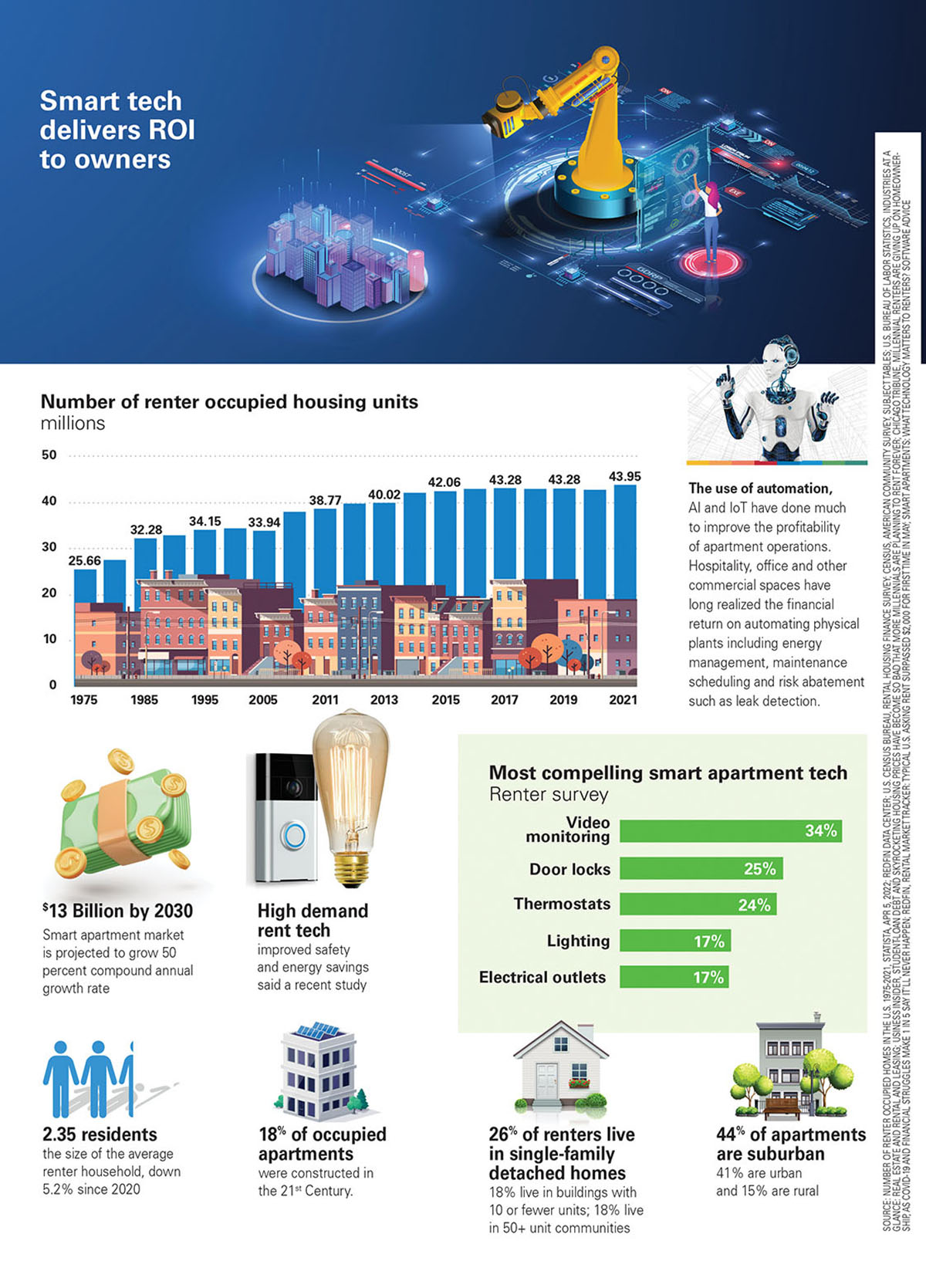 "In Class B communities that is more than just a cup of coffee, as it would be to someone who can afford to live in a luxury A-class property. So, while a renter may initially balk at paying $20 more per month for your Class B unit than the property down the street, the leasing agent can explain to the apartment seeker the significant savings they will achieve over the course of the lease because of the smart amenities, the benefit of added convenience and the higher level of safety because of the smart lock access control," she said.
Another huge cost saver is water leak detection, says PointCentral's Branam.
"Every property manager has a story around water and I've heard of six-figure incidents that not only destroy the unit where the leak took place, but those under and to the side of it. So from an asset protection standpoint, if we are alerting maintenance when there is moisture detected and they can address the issue in real time, they are saving on catastrophic water events," he said.
PointCentral can install a smart panel or a hub in a unit in 30 minutes without having to get into walls and complete a 250-unit install in a couple of days, Branam said.
Owners can choose a hub, which is a simple connectivity device, or a touchscreen panel, similar to an Apple iPad, that enables community messaging and monitored security. Each panel or hub has a cellular chip in it, so whether users are utilizing an app or access codes, they can do so over the cellular network, no WiFi needed.
"The average cost per unit is $150, depending on volume and how many smart products are being utilized. On average, groups will spend between $500 and $600 on hardware per unit inside and may also have some access needs outside the unit we can assist with," he said.
Arize's ecosystem also offers a single application on either a hand-held device, a laptop or desktop, so users don't have to toggle between apps to access the various components, like thermostats or smart locks, said Crawford.
"We help clients self-select into a custom solution and do not force them to bundle products that do not align with their unique community needs. All our solutions come with end-to-end white glove service," she said, adding that by July, the system will be fully integrated with RealPage's property management system with other major systems integrations to follow.
"Initial cost per unit is between $400 and $600 for both new construction and retrofit. What does change is the installation timeline, which might extend for properties with older AC systems because it usually requires an extra step, but the cost per door remains the same. Operators can usually see a full return on investment in less than 24 months," she said.
Arize is on the verge of attaining an Energy Star efficiency rating for its smart door locks, thermostats, water leak detection devices, smart lights and video door bells, said Crawford.
"We've positioned ourselves as strategic partners and want owners to be so educated they could speak to others on the system without us being there, but if they are not comfortable we can always be part of the conversation. Our goal is for the system to learn the preferences of each resident so that when they are coming home and are a certain distance from their unit, the lights turn on or the heat or air turns on, and as they get closer, the garage gate will open, she said, adding that the system learns to predict user behavior.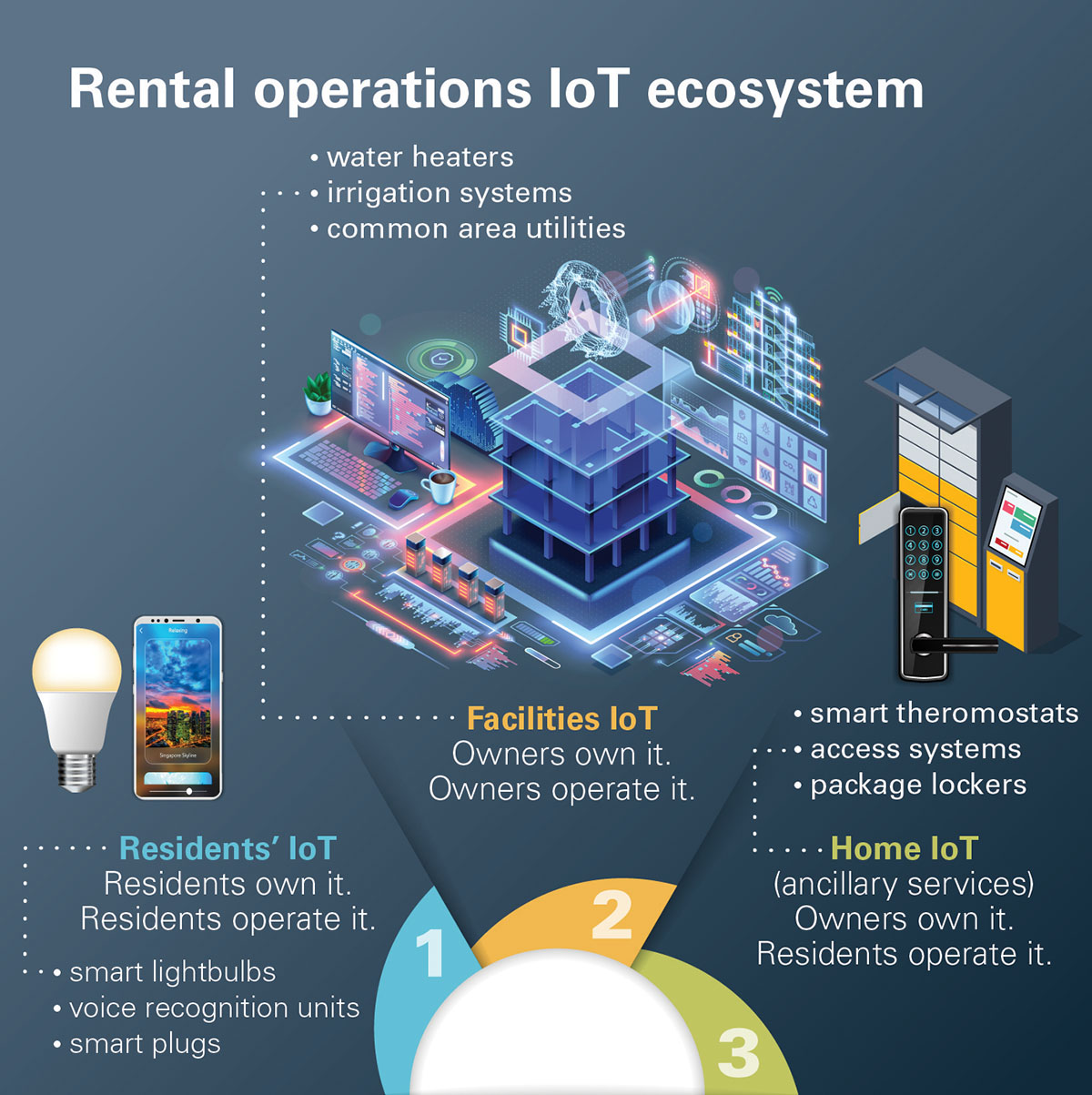 Key benefits
Allegion's door products have been a presence in the commercial real estate sector for 114 years and most recently with smart apartment locks through subsidiary door hardware company Schlage.
Allegion unveiled its Schlage control mobile-enabled, Bluetooth-compatible smart lock for multifamily in August 2019. The lock enables simplified visitor access and maintenance scheduling and lets residents grant entry to the unit for grocery delivery, pet sitting and cleaning services, while helping management deal efficiently with package management and access to concierge level amenities at the community, said Robert Gaulden, director of Allegion multifamily channel strategy.
Allegion's smart access control system integrates with all the major property management systems.
"This shaves minutes if not hours from staff's daily tasks, but owners still get confused as to what infrastructure they need to be able to deploy the system. We recommend starting with offline locks because they require the least amount of infrastructure.
"It is a common misconception that smart locks need community WiFi or need to be online to be efficient. Most of the locks we sell today are offline battery-powered, but still allow residents to gain access via a fob or more recently the mobile credential, he said, explaining that staff no longer has to rekey whenever a unit turns and the credentials give staff audit capabilities around maintenance and residents the ability to see who has entered their unit and when," he said.
Meanwhile, a new or potential resident can download an app onto their mobile device and gain access to the building and unit for a self-guided tour, complete a background check and obtain insurance and sign a lease the same day and then reserve an elevator on the day of move-in without having to wait for a leasing agent.
Credentials for each individual resident are programmed onto the fob or card (like at hotels) and all other transactions are stored on the device.
Gaulden recommends that multifamily owners and operators partner with vendors who have open architecture and ecosystems that allow for future customization of the tech stack as needs change. "Initial cost of the system can be minimized by starting with offline locks with the ability to migrate to online ecosystems over time," he said.
Security and battery life
Today, most keys are easily and cheaply duplicable at many of the big box stores with KeyMe kiosks. So are the proximity cards, which are most of the cards in use today, said Gaulden.
"The next level up are smart cards and they use an encrypted technology that is harder to duplicate. When we launched our multifamily-centric unit lock it only came with smart credentials, because we wanted to provide the maximum security for those locks.
Some of the smart credentials today are beginning to show cracks in security, but the higher levels are extremely solid. Ours run in both full online and offline mode," he said.
Gaulden notes that anything less than 12 months battery life in a unit lock creates a burden for the apartment manager.
"We found that Bluetooth low-energy BLE locks in offline mode get 18 months plus of battery life. Most WiFi locks consume quite a lot of battery power, so that is one of the limitations with WiFi today. As we move forward those protocols will change. For now, we use off-the-shelf AA batteries inside our locks," he said.
Gaulden believes the industry is on the cusp of access control becoming an enablement. "At Apartmentalize we saw so many new user experiences through the smart mobile app that generate new revenue for the property management group.
He explained how some apartment communities are even providing "amenity experience closets" where items too bulky to be stored in individual apartment units, like camping gear and bicycles, are available for residents to use for a nominal fee. They can reserve these items and gain entry to the closet with their mobile app.
"At the end of the day, smart tech is about driving efficiency for owners and providing resident experiences that will increase retention and generate good property reviews. We live in a five-star world today and smart apartments are the key to earning those five stars," said Gaulden.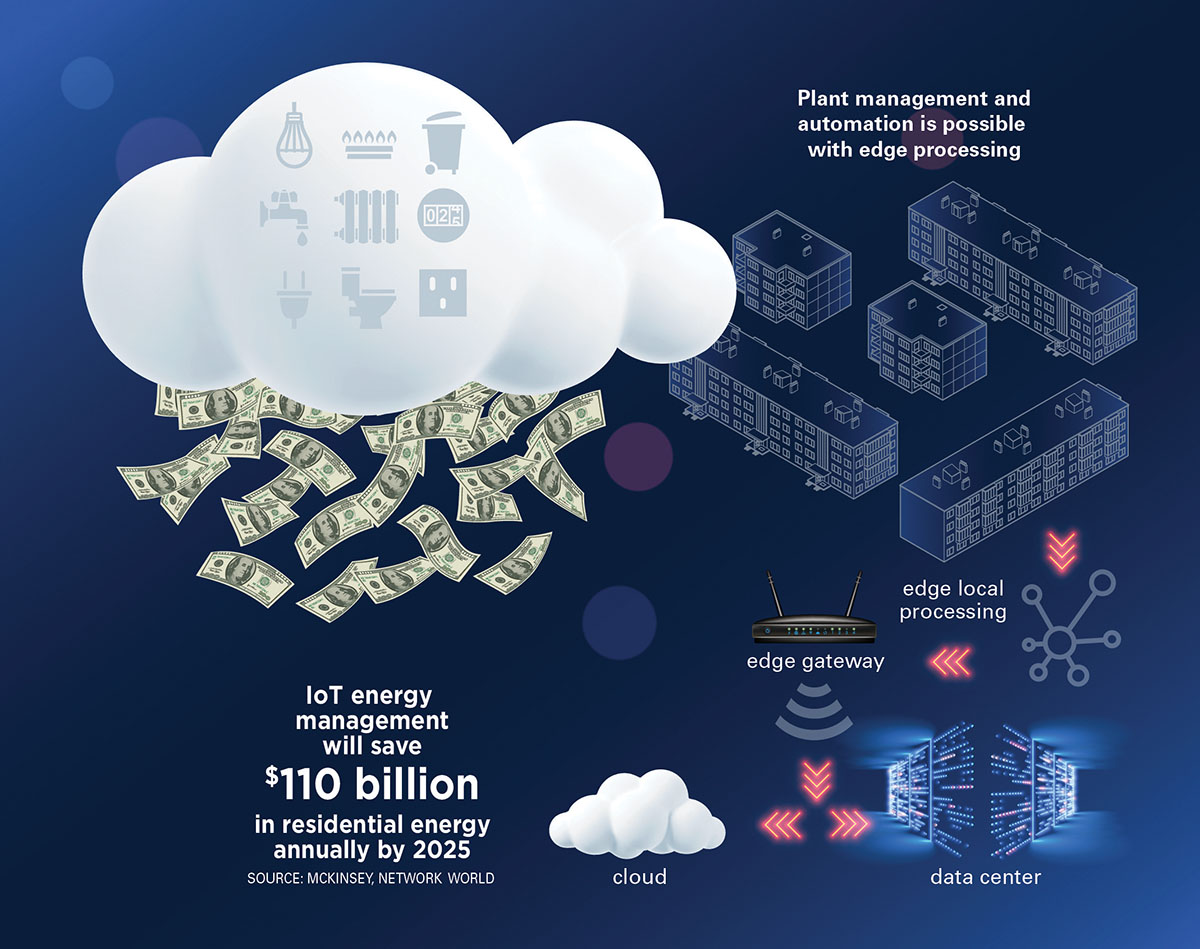 ---
Author Wendy Broffman