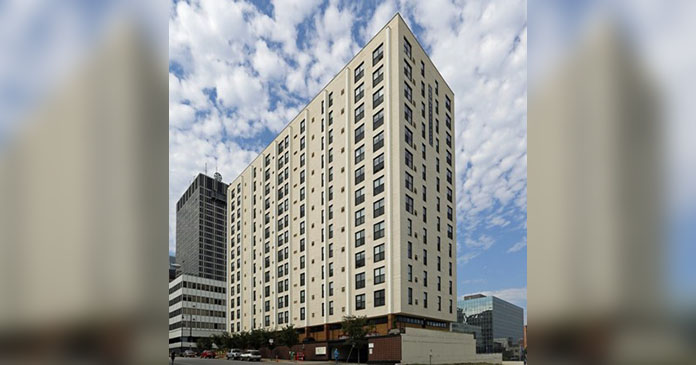 JLL Capital Markets announced that it has arranged term acquisition financing for Walnut Tower, a 180-unit, high-rise multihousing community located in downtown Kansas City, Missouri.
JLL represented the borrower, a joint venture between Peakview Investments and Infinite Waters, to secure the seven-year, interest-only, fixed-rate loan through Freddie Mac Multifamily. The loan will be serviced by JLL Real Estate Capital, LLC, a Freddie Mac Optigo lender.
Built in 1963 and fully renovated in 2012, Walnut Tower features studio, one- and two-bedroom floorplans. Community amenities include a clubhouse, a roof terrace with cityscape views, fitness center, lounge, package service and controlled access, among others.
The property presents an opportunity for significant potential, as Walnut Tower is a Class B asset in an A+ location. The joint venture has programmed a comprehensive business plan to further position Walnut Tower as the premier attainable housing community in downtown Kansas City. The business plan includes renovations to unit interiors and common area activation, along with a change of management.
"We are ecstatic to launch our joint venture with Walnut Tower," said Josh Simon, Principal of Infinite Waters. "The asset and its position in the market really resonated with our acquisition criteria and investors. We are eager to start executing our business plan and enhancing our resident's home experience."
"JLL provided us great financing options in a very turbulent time," said Jonathan Polster, Founder & Principal of Peakview Investments. "JLL helped us navigate these choppy capital markets by laying out all our financing options to ensure we were in position to make calculated investment and financing decisions that aligned with our business plan on Walnut Tower. We had a tremendous experience with the JLL Capital Markets team lead by William Haass."
Situated at 722 Walnut St., Walnut Tower is ideally located in the high-growth and revitalized Downtown Kansas City submarket. The Property is central to many of Kansas City's largest employment centers, notable retailers and a vast array of entertainment amenities. Walnut Tower is walkable to the burgeoning Kansas City River Market, offering waterfront shopping and distinctive gourmet dining options, along with the Power and Light District, which is one of Kansas City's top entertainment districts. Walnut Tower is also positioned directly adjacent to the coveted KC Streetcar Line, providing residents convenient access to sought-after Downtown destinations.
The JLL Capital Markets Debt Advisory team representing the borrower was led by Director William Haass.
"Walnut Tower is a great example of how buyers can still achieve accretive financing in the current environment," said Haass, "The property's natural affordability made it an exceptional candidate for agency financing, with both Fannie and Freddie offering numerous credit waivers on their initial quotes, allowing for Peakview Investments and Infinite Waters to take advantage of an accretive blend of interest-only term and proceeds."
JLL delivers multihousing investors a full range of solutions through one diverse, integrated platform. The division employs approximately 400 professionals who provide comprehensive investment sales and disposition services with access to thousands of domestic and foreign investors. JLL is also one of the nation's largest affordable and conventional multi-housing and seniors housing lenders with comprehensive loan underwriting, asset management and loan servicing capabilities. Agency/GSE lending and loan servicing are performed by JLL Real Estate Capital, LLC, a wholly owned indirect subsidiary of Jones Lang LaSalle Incorporated. Loans made or arranged in California are pursuant to a California Financing Law license.
JLL Capital Markets is a full-service global provider of capital solutions for real estate investors and occupiers. The firm's in-depth local market and global investor knowledge delivers the best-in-class solutions for clients—whether investment and sales advisory, debt advisory, equity advisory or a recapitalization. The firm has more than 3,000 Capital Markets specialists worldwide with offices in nearly 50 countries.