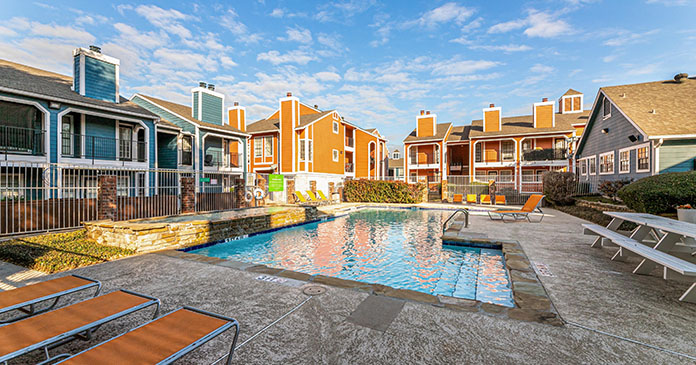 Institutional Property Advisors (IPA), a division of Marcus & Millichap, announced the sale of the LH3 Portfolio; three multifamily properties located in Richardson and Dallas, Texas. The assets in Richardson are Belterra, 314 units built in 1984 and Estancia, a 220-unit property constructed in 1981, and the Dallas property is 432-unit Solaris, completed in 1983 in the city's Lake Highlands neighborhood.
"The portfolio's location, just off Interstate 635 near U.S. Highway 75, places residents within a short commute of the area's major employment centers," said Taylor Hill, IPA senior vice president. "The location is further enhanced by the Texas Transportation Commission's recent approval of a $1.6 billion expansion of Interstate 635 from U.S. Highway 75 to Interstate 30, which includes a bridge that will serve as the gateway to Lake Highlands." Hill and IPA's Michael Ware, Drew Kile, Joey Tumminello, and Will Balthrope represented the seller, The ValCap Group, and procured the buyer, Tides Equities. "Previous ownership completed numerous capital projects on all three properties, leaving minimal deferred maintenance and significant upside for the buyer," added Ware.
Belterra is a two- and three-story garden-style asset with two resort-style pools, three on-site laundry facilities, and reserved covered parking. The average unit size is 584 square feet. Estancia provides residents with an on-site laundry facility, an outdoor kitchen and a community garden. The average apartment size is 934 square feet. Solaris has a business center, outdoor kitchen and resident lounge. The average unit size is 762 square feet.
"IPA in Texas provides investors with a large inventory of high-quality multifamily investment opportunities in every market, offering local market research and sales expertise in Dallas-Fort Worth, Houston, Austin and San Antonio," said Balthrope.