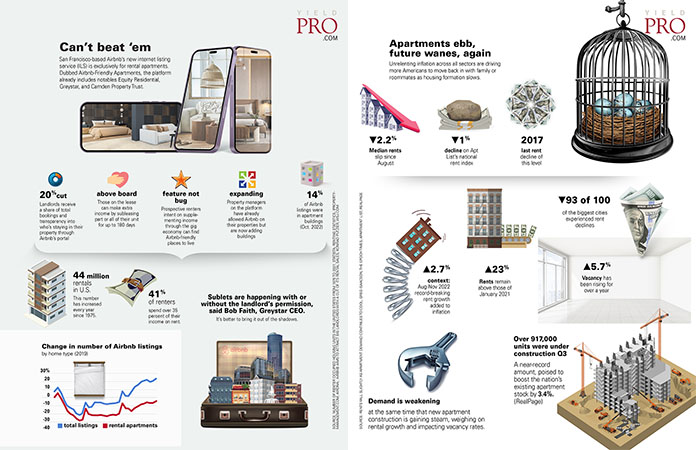 San Francisco-based Airbnb's new internet listing service (ILS) is exclusively for rental apartments. Dubbed Airbnb-Friendly Apartments, the platform already includes notables Equity Residential, Greystar, and Camden Property Trust.
20 percent cut
Landlords receive a share of total bookings and transparency into who's staying in their property through Airbnb's portal
above board
Those on the lease can make extra income by subleasing part or all of their unit for up to 180 days
feature not bug
Prospective renters intent on supplementing income through the gig economy can find Airbnb-friendly places to live
expanding
Property managers on the platform have already allowed Airbnb on their properties but are now adding buildings
14 percent of Airbnb listings were in apartment buildings (Oct. 2022)
44 million rentals in U.S.
This number has increased every year since 1975.
41 percent of renters spend over 35 percent of their income on rent.
Sublets are happening with or without the landlord's permission, said Bob Faith, Greystar CEO.
It's better to bring it out of the shadows.
Apartments ebb, future wanes, again
Unrelenting inflation across all sectors are driving more Americans to move back in with family or roommates as housing formation slows.
-2.2 percent Median rents slip since August
-1 percent decline on Apt List's national rent index
2017 last rent decline of this level
93 of 100 of the biggest cities experienced rent declines
+2.7 percent context: Aug-Nov 2022 record-breaking rent growth added to
+23 percent Rents remain above those of January 2021
+5.7 percent Vacancy has been rising for over a year
Demand is weakening
at the same time that new apartment construction is gaining steam, weighing on rental growth and impacting vacancy rates.
Over 917,000 units were under construction Q3
A near-record amount, poised to boost the nation's existing apartment stock by 3.4%. (RealPage)