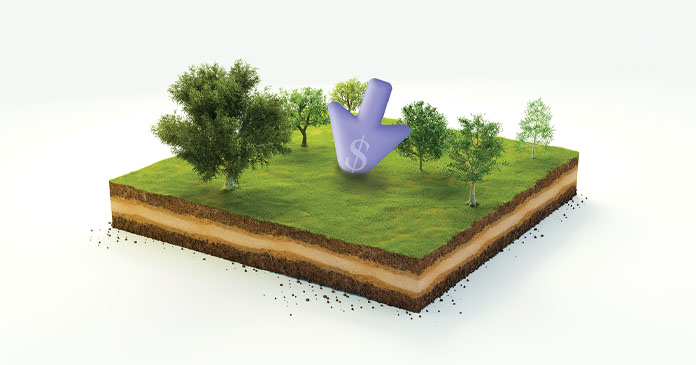 Rising interest rates stress developers as they look for land to build on. But tough times may create opportunities.
Land prices are falling—for the first time in more than ten years. Apartment developers are asking land sellers for discounts. Sometimes they get the lower prices they want. Other times they are walking away from deals.
"We have a lot of transactions that are not going forward because sellers will not come down in their pricing," said Laurie Lustig-Bower, executive vice president for CBRE specializing in land sales, working in the firm's Los Angeles offices.
It might seem like a great time to buy land to build new apartments. Rents are still rising, after breaking records in 2021 and 2022. New households fill empty apartments as soon as they open, even after years of frantic construction. Even if the U.S. economy slips into a recession in 2023, the slowdown would probably be over long before new apartments could open on a development site purchased today.
But fewer developers are buying land to build—even though renters want new apartments and developers want to build them.
That's because interest rates are rising. Officials at the Federal Reserve have raised their benchmark rates several percentage points already in 2022. And they plan to keep raising interest rates to beat inflation in the overheated U.S. economy.
The efforts of the Federal Reserve may have already succeeded in lowering prices for sites to build apartments.
"We have definitely lost land deals as a result of the interest rate," said CBRE's Lustig-Bower. "People back out of deals. People ask for price adjustments."
Fewer bids, lower prices for land
Dealmakers like Lustig-Bower say apartment development sites that sell today are priced 5 to 10 percent lower than a year ago.
Land prices have fallen even further in the busiest markets, experts say. "In Phoenix prices are already down 10 to 20 percent," said Max Friedman, partner at Banyan Residential, with offices in Houston and Los Angeles. Phoenix has become one of the hottest markets in the U.S. for apartments development.
Developers in coastal markets also report steep declines.
"If you look at land trading right now, it would probably be 20 percent cheaper than a year ago," said Andre Soroudi, executive vice president of acquisitions and development, West Coast for CGI+, working in the firm's Los Angeles office. CGI+ is actively buying and building apartment properties in California, Florida, Georgia and, most recently, South Carolina.
Many potential sellers are not willing to sell at the prices these buyers think are reasonable. "They are just going to wait it out, even if that means waiting a whole other real estate cycle," said CBRE's Lustig-Bower.
Developers don't have data to prove to stubborn potential sellers that land prices have really changed. These prices can vary widely depending on what developers plan to build on the sites. That adds to the resistance of sellers to lower their prices.
"Land pricing remains sticky," said Jim Driscol, senior vice president of development and acquisitions for Blue Onyx, an apartment developer based in Clifton, N.J.
Many potential buyers are content to wait for sellers to eventually lower their asking prices, without even bothering to bid. For example, a prime development site in Los Angeles, near the famous Grove shopping mall, recently received eight bids after being offered for sale for just three days. That's might seem like a lot—except that the same site had received 21 offers when offered for sale the year before, said Lustig-Bower. (The site had to be pulled from the market to resolve an unrelated issue with the seller.)
Boom in land sales tapering off
The standoff between buyers and sellers has already reduced the number of land sales that closed in first three quarters of 2022.
"Looking at development site sales in total, deal volume has been falling over the last year," said Jim Costello, head of real estate economics and chief economist at MSCI Real Estate, working in the firm's New York City offices.
Developers of all kinds paid $7.2 billion to buy sites for future projects in the third quarter of 2022. That's down from $8.3 billion the year before. It's also the smallest amount developers have spent on sites since the recovery from the pandemic began in earnest more than a year ago, according to MSCI.
The sagging numbers may represent the end of a development boom that began early in the recovery from the coronavirus pandemic.
Developers spent an average of $8.5 billion on development sites per quarter over the last year and a half, according to MSCI. That's a lot of money compared to the average $5.6 billion developers spent per quarter over the five years before the pandemic.
The $7.2 billion developers spent in the third quarter of 2022 may be small compared to the boom that is ending, but it's still quite a lot compared to the quieter years before the pandemic.
The boom was particularly strong for the construction of new apartment buildings. "Today's units under construction hit—at minimum—a 30-year peak earlier this year," said Carl Whitaker, director of research and analysis for RealPage, based in Richardson, Texas.
Developers were in the process of building about 920,000 apartments across the U.S. at the end of the third quarter of 2022, according to RealPage. Most are likely to open in the next 12 to 24 months. That's a huge increase from the 675,000 units they had under construction in 2020. Five years ago, it was just 575,000 units.
Developers are already slowing down, however. "We'll see the pipeline come down from its current level," said Whitaker.
The number of apartments under construction has already begun to shrink. The large number in the third quarter of 2022 was already a little less than in the second quarter, say Whitaker.
"The question for the mid-2020s will be whether coming down is closer to the 500,000 to 600,000 pipeline pre-pandemic or closer to the 700,000 to 800,000 in the past few years," said Whitaker.
Interest rates slow development
Dealmakers and developers say the rising interest rates are the main reason they are less interested in buying new sites.
Officials at the Federal Reserve are raising interest rates to purposely slow down the U.S. economy and fight price inflation. They raised the short-term Fed Funds rate target to 4.25-4.5 percent in their December 2022 meeting—up from effectively zero at the beginning of the year. The Fed has announced plans to raise several more times in the near future.
"A lot of us think that the market is going to get worse. Every time they raise those rates it puts downward pressure on pricing for both land sites and finished buildings," said CBRE's Lustig-Bower.
Investors demand higher investment yields when interest rates rise
"If they can put money in a savings account and get a return, then if they are going to invest in something more speculative like a development deal, they are going to require a higher rate of return," said Lustig-Bower. "In order to get a higher rate of return, you are going to have to have a lower price for the property."
Higher interest rates also eat into the investment yields provided by apartment developments, because construction financing is more expensive.
"The cost of money has more than doubled," said Patricia Will, founder and CEO of Belmont Senior Living, based in Houston.
Dealmakers say the same pressures are already pressing down the prices that buyers are willing to pay for existing apartment buildings. "If a building a year ago would have sold for $500,000 a door, and now it sells for $440,000 a door," said Soroudi. "Obviously that trickles down to a lower price for land."
If he's right, it will still take time before any change shows up in the data on apartment sales. "You really only see that if you are seeing where bids are coming in on assets," said Soroudi. "It will take a while for those deals to close and for people to see that things have changed."
Buyers accepted cap rates averaging 4.4 percent for apartment properties bought in the third quarter of 2022. That's down 20 basis point from the year before, reflecting prices that are rising relative to income—not falling yet—according to MSCI.
There is evidence that the efforts of the Federal Reserve to slow down the economy was already softening the demand for apartments in the third quarter, according to RealPage. "Net absorption plummeted in the third quarter of 2022, vastly under-performing expectations," said Whitaker.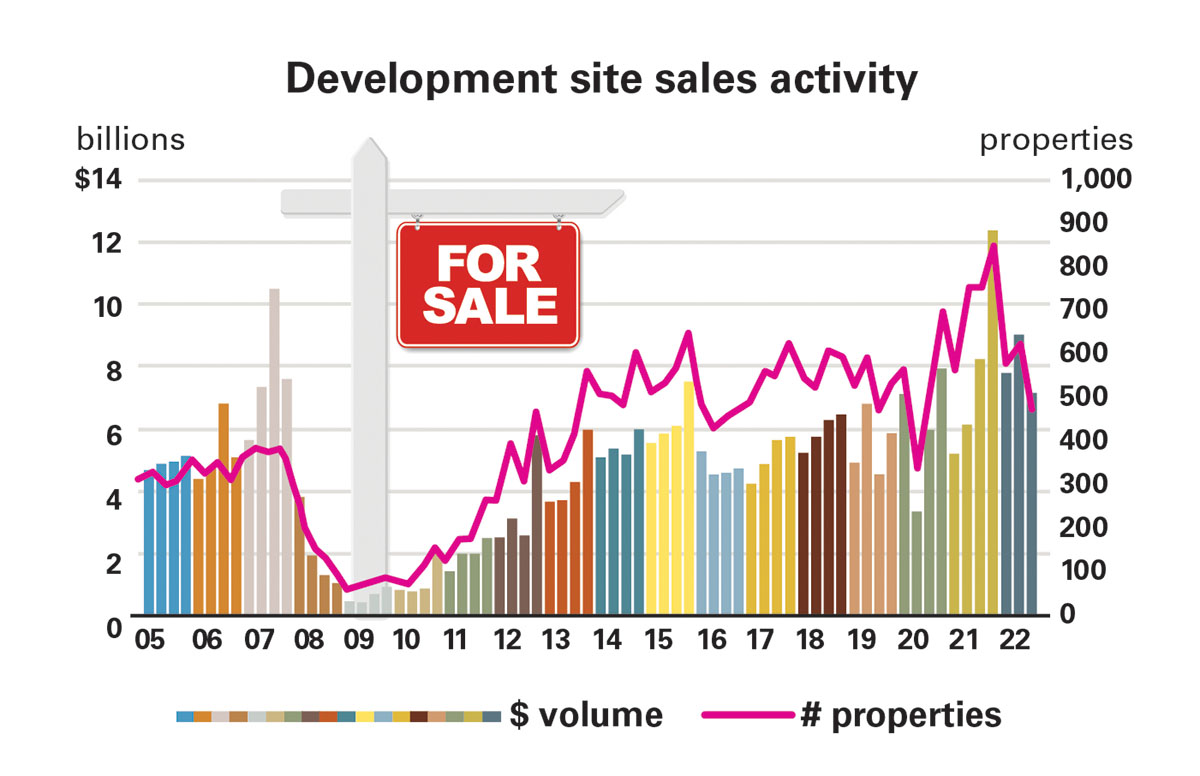 Developers still optimistic—in the long term
CGI+ usually splits the money it invests in apartment projects equally between new development and the acquisition of existing apartment buildings—but not today.
"It is absolutely becoming more difficult to pencil development," said Soroudi. "We are leaning the heavily towards the acquisition of existing assets."
However, CGI+ is still ready to start construction on the right kind of apartment development—one the creates new value in a market with a proven need for apartments. For example, the developer recently broke ground in the South Bay neighborhood of Los Angeles on an apartment building next to a leading hospital now undergoing a $1.6 billion modernization.
"If you can add value to those locations because of whatever you are doing there, you can make sense of them," said Soroudi. "But if you are doing a straight merchant build of apartments in an area that already has enough of them, then valuations will obviously have to be adjusted."
For developers willing to take the plunge, the next year could prove to be a good time to begin an apartment project, according to CBRE's Lustig-Bower.
"They would have got the land at a good price, they would have gotten the materials at a good number, and then they would have a building ready to start leasing and hopefully by when we would be coming out of this recession, if that is what we are going into," she said.
The top places that developers continue to look for sites to build still start with cities and towns in the Southeast, experts say.
"The Sun Belt markets have been big developer targets for much of the past decade," said Whitaker. "Long-term, the outlook remains very optimistic for the Sun Belt markets with strong job growth, population growth, and demographic tailwinds."
Places like Charlotte, Nashville, and Austin have been relative inventory growth leaders for some time now, said Whitaker. The pace at which those markets are adding units has spiked of late. The pipeline of new apartment under construction in Austin and Charlotte are equal to 14 percent of the existing inventory in those towns. Meanwhile, Nashville's pipeline would grow its inventory of apartments by 15 percent.
"For every 100 units that exist in Nashville today, another 15 are likely to deliver in the next 12 to 24 months," said Whitaker.
All this new supply will test the strength of the demand for new apartments in the Southeast, especially if the U.S. economy falls into the recession and household formation slows further. However, in recent past disruptions like the pandemic and the Global Financial Crisis have not stopped the growth of these markets.
"We see good long-term trends of people chasing affordability, especially in locations where there is still a high quality of life," said Soroudi.
Developers also continue to shop for sites in places with high barriers to entry for developers. For example, Belmont started construction in the summer of 2021 on Belmont Village Coral Gables in Miami Dade County, Fla. Belmont will open the community's mix of independent living, assisted living and memory care units in 2023.
Belmont first partnered with Baptist Health South Florida, a local seniors housing company which already had the site under contract, back in 2018. Since then, the developers have negotiated with local zoning officials to get the right to build, promising them extensive public gardens on the site, among other things. Because negotiations like these can take so long, Belmont never stops looking for places to build. The conversations with local officials typically last longer than any recession.
"We never give up during down cycles," said Belmont's Will. "Sites like these, they are rarely up for sale and they always require entitlements."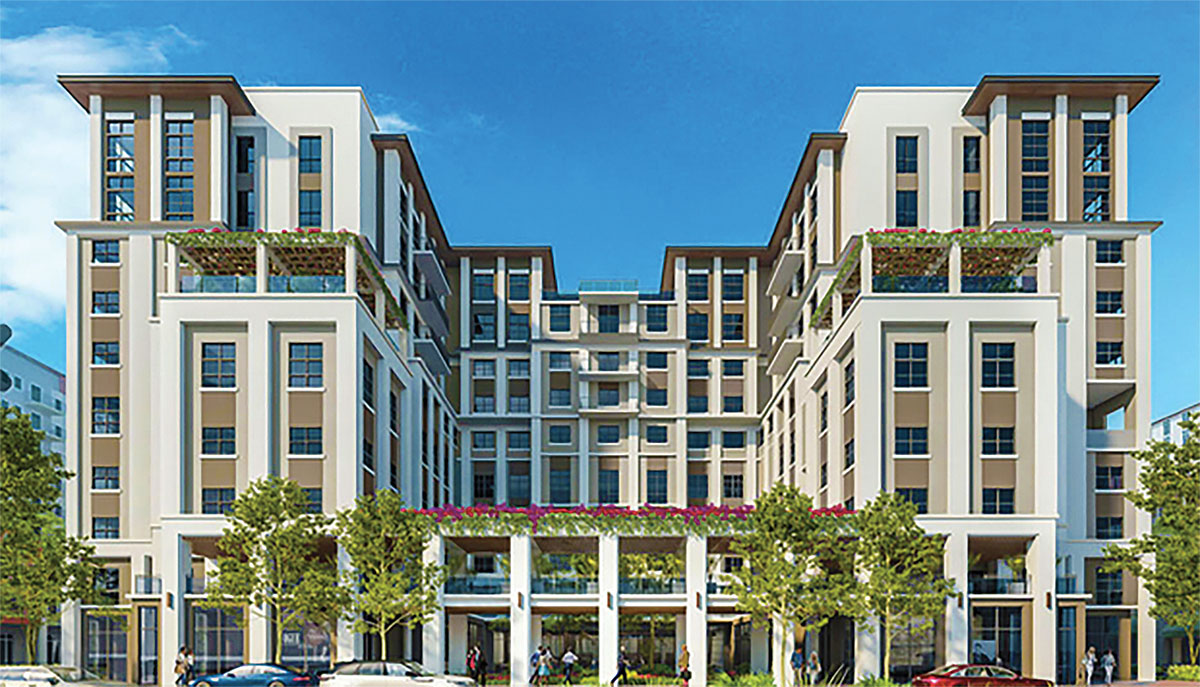 ---
Author Bendix Anderson