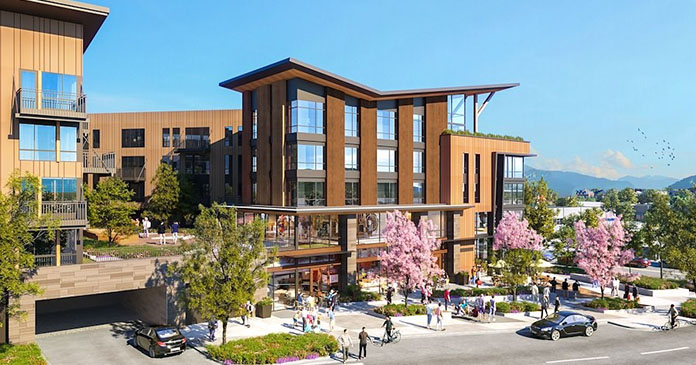 IPA Capital Markets (IPA), a division of Marcus & Millichap, specializing in capital markets services for major private and institutional clients, arranged $173 million in construction and related financing for three mixed-use multifamily projects in suburban Seattle, Washington.
IPA's Raymond Allen, Senior Vice President, and Seth Heikkila, Vice President, based out of the company's Seattle office, originated the financing on behalf of the borrowers.
"Multifamily builders have been more active in suburban Seattle markets since the onset of the pandemic," said Allen. "The Seattle-Tacoma metro area has added jobs at a pace roughly three times its long-term average during the yearlong span ending last June, as a growing number of firms are choosing locations in the area."
In the largest of the transactions, $66,200,000 in construction financing was arranged for Eastrail Flats, a new, five-story 168-unit residential development and 16,678 square feet of ground-floor retail at 13400 Northeast 175th Street in Woodinville, WA, in the heart of the Woodinville School District redevelopment and the new "Wine Walk" experience. Birch Tree Academy, a bilingual preschool, childcare and kindergarten, has committed to 50 percent of the retail space at the property.
The five-year loan features a 31-month interest only (IO) period with a 30-year amortization after the initial IO period and 55 percent loan-to-cost ratio.
In the second deal, IPA arranged a $65,650,000 construction loan for Spark, a 211-unit mixed-use multifamily property under development in Redmond, Wash. at 17515 NE 67th Court. The five-story property includes 13,326 square feet of ground floor retail. The five-year loan features a 42-month IO period, two 12-month extension options, and a 30-year amortization thereafter with a loan-to-cost of 57 percent.
The IPA team also arranged $41,500,000 in permanent financing for Terrace Station East, a six-story, 168-unit development with over 16,678 square feet of ground floor retail located at 24015 Van Ry Blvd. in Mountlake Terrace, Wash. The transit-oriented development, built alongside the Mountlake Terrace Light Rail Station, was completed in 2022. IPA previously arranged the construction loan for Terrace Station East.
The new five-year permanent financing features a full-term interest only period and 60 percent loan-to-value. Retail tenants at the property include IRG Therapy, Little Kitchen Academy and Zeek's Pizza.