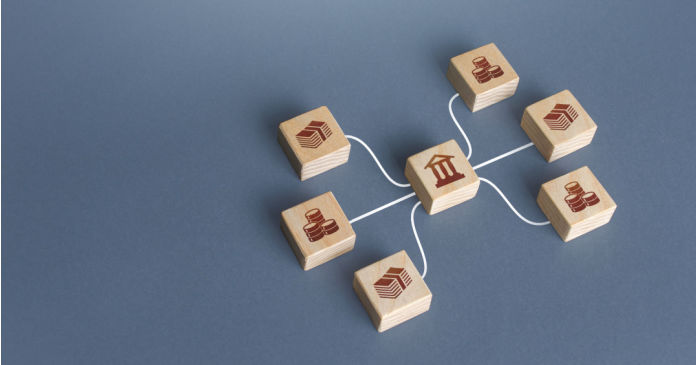 A recent report from CBRE says that their commercial mortgage lending momentum index fell in Q1, dropping 33 percent quarter-over-quarter and 53.5 percent year-over year.
Dividing the market
Unlike reporting from the Mortgage Bankers Association, CBRE does not separate out lending on multifamily property from lending on other types of commercial property. Instead, CBRE includes multifamily lending with that on other commercial property when considering non-governmental lenders. CBRE then considers multifamily lending by the government sponsored entities (GSEs) Fannie Mae and Freddie Mac separately. However, CBRE does report separately for multifamily lending on certain metrics such as loan to value (LTV) ratios or interest rate spreads when there are significant differences in those metrics between multifamily loans and loans on other commercial property.
Banks lead non-GSE lending
Banks' share of non-GSE commercial/multifamily lending was 41.1 percent in Q1. This was down significantly from their 58 percent share in Q4 but was up significantly from their share in Q1 2022. Life insurers and alternative lenders both kept their relative shares of the smaller lending volume in Q1 approximately the same as their shares in Q4. However, CMBS conduit loans significantly grew their relative share of lending, increasing from a 2 percent share in Q4 to 15.7 percent in Q1.
The quarter-over-quarter change in lending volumes by source is illustrated in the following chart.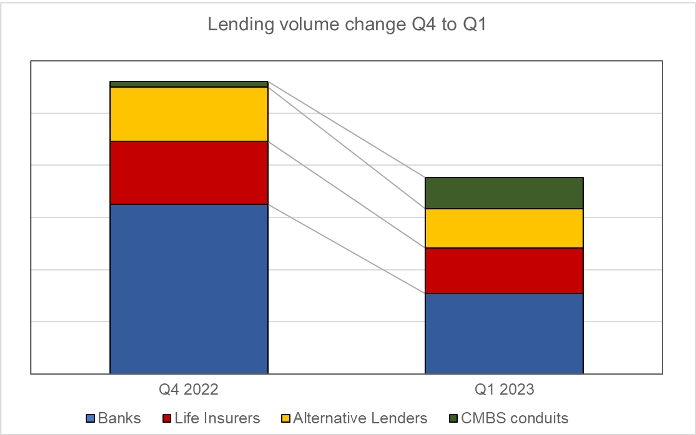 Changing terms
When looking at loans with 7 to 10 year terms and loan to value ratios of 55 percent to 65 percent, CBRE found that spreads on multifamily loans fell 8 basis points (bps) in Q1 to 170 bps. Spreads on loans on other commercial property rose 14 bps in the quarter to 206 bps. At the same time, the average yield on the 10-year Treasury fell 18 basis points in Q1 to 3.65 percent.
Looking at all commercial mortgages, the average interest rate rose 38 bps in Q1 to 5.68 percent. However, there was a significant spread in the range at which loans were made. Loans of less than $10 million had a broader spread and higher maximum interest rates than did larger loans.
The portion of loans that were fully interest-only in Q1 rose to 39.7 percent from 26.3 percent one year earlier. The average cap rate rose to 5.61 percent from 5.32 percent in Q4 and from 4.93 percent in Q1 2022.
GSE loan volume falls
The volume of loans originated by the GSEs fell 47 percent year-over-year in Q1 to a level of $16.5 billion. Interest rates on permanent loans with 7 to 10 year terms that closed in Q1 rose to 5.32 percent. This was up from 5.21 percent in Q4 and from only 3.48 percent one year earlier.
The CBRE lending momentum index is based on loans originated or brokered by CBRE Capital Markets. The full report is available here.