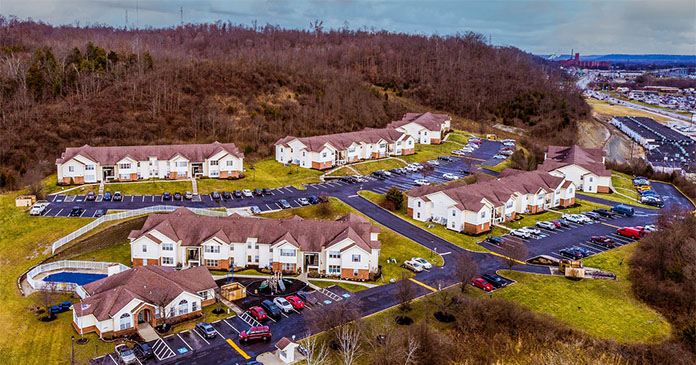 Revitate Cherry Tree (RevCT), a leading private real estate investment platform specializing in acquiring and operating multifamily assets across key U.S. markets, has acquired Tuscany Bay, a 96-unit, well-appointed and highly amenitized multifamily property in Lawrenceburg, Indiana, situated approximately 26 miles from Cincinnati.
"This acquisition reflects the high quality and strategic precision we've been able to achieve throughout the life of the Fund," says Chris Marsh, General Partner with Revitate Cherry Tree. "In just over one year, we've successfully identified and acquired six communities that match our investment thesis and serve our mission to preserve the availability of attainably priced housing for working families throughout the American Midwest. In each case, we've selected markets with strong long-term growth drivers that present strong potential for both risk-adjusted returns and inflation protection for our investors."
Revitate Cherry Tree's Tuscany Bay acquisition comes on the heels of its 182-unit acquisition in Jeffersonville, Indiana and a 210-unit acquisition in Elkhart, Indiana, giving the firm economies of scale across the state. Withthe Tuscany Bay investment, Revitate Cherry Tree has completed investment on the fund with a $110 million portfolio comprised of 841 units across six properties.
Revitate Cherry Tree also recently announced its first cash distribution to the Fund investors, arriving lessthan three months following the Fund final close date of December 31, 2022.
"Migration patterns to the Sunbelt are well-known and well-documented across general and financial media,"explains Alex Bhathal, Revitate Executive Chairman and Revitate Cherry Tree General Partner. "But another set of American cities is often overlooked—one that is attracting a growing population of residents drawn by good job prospects, attainable cost of living, and a diverse array of living amenities. These Midwest growth markets include Kansas City, Louisville, Indianapolis, Cincinnati, and Columbus."
Marsh notes that Revitate Cherry Tree's first workforce housing acquisitions in the Fund were also in the same region, comprising three multifamily communities totaling 353 units in Kansas City.
"We are accessing major untapped potential by drilling down to invest only in workforce housing in thisparticular Midwest region," March explains. "The supply-demand fundamentals are exceptionally strong in this sector, driven by rising home prices and limited supply that is further constrained by value-add investors upgrading vintage assets as well as rising material and labor costs that restrict new development. The conclusion is a well-maintained and well- operated asset class that offers safe, stable, and comfortable living environments within short commuting distances of major employment centers."
Revitate Cherry Tree's most recent acquisition demonstrates this strategy in action. Built in 1999, Tuscany Bay is in close proximity to the newly developed Amazon Air Hub, a $1.5 billion air cargo facility spanning 800,000 square feet at the Cincinnati/Northern Kentucky International Airport. The property is also a short drive from major Cincinnati employers such as Kroger, the University of Cincinnati, Proctor & Gamble, and GE, among others, as well as many dining, shopping, and entertainment options. Residents and prospective renters at the propertyhave access to large two- and three-bedroom floor plans, an upgraded clubhouse, pool, playground, TV room, and fitness center.
"Like the other assets in the Fund, Tuscany Bay is situated in a well-connected region and offers the opportunity to create strong value through our team's deep expertise in on-site operational strategy," says Marsh."With this acquisition, we are on track for strong performance across the fund portfolio, centered on a property type that has historically performed well in times of economic uncertainty. Based on these drivers, we are now seeing demand rise quickly for a subsequent workforce-housing-focused fund."