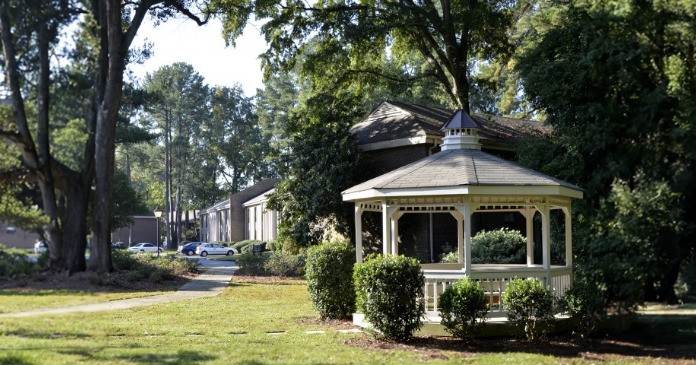 JLL Capital Markets announced today that it has arranged the $21.8 million bridge financing for Granby Oaks Apartments, a 148-unit, garden-style apartment community located in West Columbia, South Carolina.
JLL represented the sponsor, PAM Associates LLC, to secure the two-year, floating-rate loan through MF1 Capital, LLC.
Built in 1973, the property features one, two- and three-bedroom units across 21 buildings. Units are currently in the process of undergoing renovations, which include updated flooring, new vanities, granite countertops, stainless steel appliances, washers/dryers and hookups, updated trim, repainting, kitchen cabinet upgrades and new subway tiles backsplashes. Community amenities include a dining room, a clubhouse, a laundry facility, a courtyard and a swimming pool.
Located at 800 State St., Granby Oaks is situated directly west of downtown Columbia and offers residents easy access to shopping, dining and entertainment options. The community is also conveniently positioned near major highways and interstates, as well as a range of local parks, outdoor recreation areas and historical landmarks. Additionally, the property is within proximity of the University of South Carolina, which serves as a major economic and employment hub for the area.
The JLL Capital Markets Debt Advisory team was led by Senior Directors Thomas E. Didio Jr. and Taylor Allison, Directors Gerard Quinn and Ward Smith and Analyst Michael Mataras.
"PAM Associates has done an exceptional job upgrading the units at Granby Oaks. MF1 quickly recognized the upside and was able to provide a competitive loan structure that will allow the sponsor to continue to renovate the property," stated Quinn. 
"This property has performed phenomenally well, and our partnership with MF1 allows us to continue to execute at a high level and complete our business plan. Our focus is always to add value for both residents and ownership. JLL was instrumental in bringing about this partnership and navigating a challenging debt market," added Paul Celler, President, PAM Associates, LLC. 
JLL Capital Markets is a full-service global provider of capital solutions for real estate investors and occupiers. The firm's in-depth local market and global investor knowledge delivers the best-in-class solutions for clients — whether investment sales and advisory, debt advisory, equity advisory or a recapitalization. The firm has more than 3,000 Capital Markets specialists worldwide with offices in nearly 50 countries.