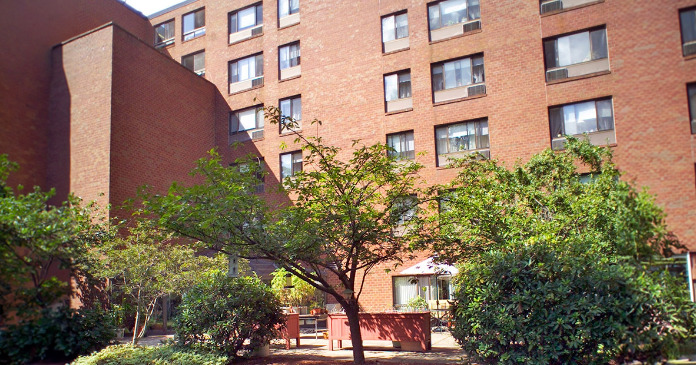 MassHousing, working with Rogerson Communities, has closed on $14.5 million in affordable housing financing to Charles H. Farnsworth Senior Housing Corporation, owner and developer of the 76-unit Farnsworth House for older adults in Boston, for the refinancing and renovation of the property, and the extension of resident affordability for at least 24 years.  
"MassHousing is pleased that the seniors living at Farnsworth House will have their affordable rents extended for the long term," said MassHousing Executive Director Chrystal Kornegay. "MassHousing partners with mission-based affordable housing providers like Farnsworth and Rogerson Communities, for the benefit of lower-income households, and this transaction ensures that Farnsworth House will continue to serve Boston residents for decades to come."  
"Charles H. Farnsworth Senior Housing Corporation's ongoing mission is to serve this community. Preserving that affordability for low-income seniors is essential," said Peter Fenn, Farnsworth Senior Housing Corporation's Board Chair. "Critical reinvestment in the building will not only positively impact the current residents, but it will also have a long-lasting impact on the Farnsworth Housing Corporation's ability to create more affordable housing and deliver services to elders in the community."
"Rogerson Communities is pleased that our work with MassHousing will continue to ensure that low-income seniors have affordable rents well into the future. Quality affordable housing that is both appealing and supportive is imperative if we are to preserve vibrant and diverse communities," said Walter Ramos, Rogerson Communities' President & CEO.
Located at 90 South St. in Jamaica Plain, Farnsworth House is a seven-story, brick building built in 1982 under the federal Section 202 Program. Farnsworth House has 69 one-bedroom apartments and seven two-bedroom apartments.
Among the improvements planned for the property are roof replacement, parking lot refurbishment, the removal of an underground oil tank, and replacement of the emergency generator, emergency call system, intercom, security camera system, fire alarm panel system and lobby furniture.
As part of the transaction, the property owner, Charles H. Farnsworth Senior Housing Corporation, has executed a new 20-year HUD Section 8 Housing Assistance Payment contract for 75 of the 76 apartments at Farnsworth House. The new contract will include four years remaining on the previous contract, for an overall extension of affordability of 24 years. There is an additional unit on the property for management staff.
Farnsworth House was refinanced through MassHousing's Multifamily Accelerated Processing (MAP)/Ginnie Mae Joint Venture Initiative with lender partner Rockport Mortgage Corporation. MassHousing offers the MAP/Ginnie Mae loan program to the owners of rental housing through the U.S. Department of Housing and Urban Development (HUD). HUD provides expedited Federal Housing Administration (FHA) insurance approvals through the MAP program. MassHousing has surpassed $2 billion in cumulative MAP lending and the Agency has built the largest MAP lending program of any state housing finance agency in the nation.    
The combination of FHA insurance and a Ginnie Mae guarantee enables borrowers to access taxable mortgage financing with lower interest rates, while preserving and extending affordability for hundreds of low-income individuals, senior citizens, and families. MassHousing is providing Charles H. Farnsworth Senior Housing Corporation with a $14.5 million, 35-year permanent loan.  
"We are pleased to continue our successful joint-venture partnership with MassHousing, ensuring that properties such as Farnsworth House remain affordable for the long-term," said Dan Lyons, President of Rockport Mortgage. "The planned improvements to the property, supported by this loan, continues the commitment by ownership to preserving this important housing asset for the senior citizens of Jamaica Plain calling Farnsworth House home."