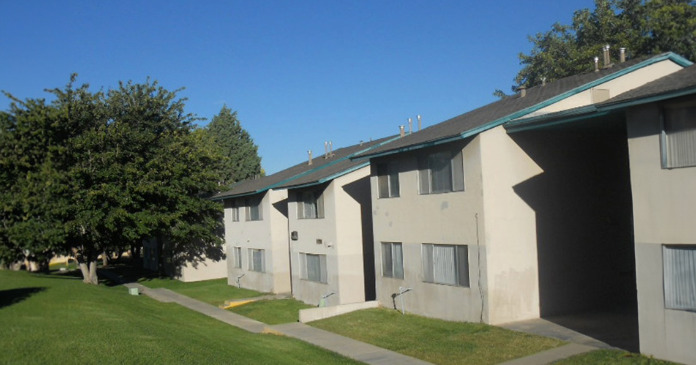 Community Preservation Partners, a mission-driven affordable housing preservation developer has announced the acquisition and planned renovation of two developments in Albuquerque: Mountain View II and III. 
Built in 1967 and 1968 respectively, Mountain View II and III are located at 1515 and 1333 Columbia Dr. SE, approximately four miles outside of downtown Albuquerque. They share a contiguous block and will be designated and operated as one development. In all, the Mountain View Apartments offer 241 units comprised of studios, one-, two-, and three-bedroom layouts, set in multiple two-story garden-style buildings and townhouses.
CPP's total development investment is approximately $65,769,000, which includes the purchase price of $22,280,000 and an estimated per unit renovation cost of $95,078. This is the first project in Albuquerque for CPP, which coincides with two recent closings in Santa Fe. CPP's investment in New Mexico consists of more than 39 different communities.
"The need to renovate the Mountain View Apartments, due to years of deferred maintenance, is compounded by a recent fire at one of the buildings making approximately 24 units uninhabitable," said Karen Buckland, Vice President at CPP. "This investment, which will preserve affordable units in the area, could not come at a better time."
Along with the extensive work to repair the burnt building, the total site renovation will bring modernization, ADA compliancy, energy efficiency, and improved security to the community. Mountain View Apartments will receive extensive energy efficiency upgrades, such as Energy Star rated appliances, low flow and flush rated plumbing fixtures, and LED lighting throughout the community. New vinyl plank flooring, paint and adhesives will be low VOC, along with formaldehyde free cabinets and counters.
Accessibility will be addressed throughout the site, ensuring accessible routes to units, site amenities and parking spaces. The common area interiors and restrooms will receive modification to comply with accessibility requirements, and a total of 13 Type A units will be designated, receiving enhancements for residents with maneuverability restrictions. Additionally, five hearing impaired units will be provided.
Exteriors will receive stucco repairs, new paint and new windows, full asphalt replacement, new playgrounds, a new perimeter fence to deter crime, and any proposed landscape improvements will address water conservation. Other community amenities include central laundry facilities, off street parking, picnic area, playground, and on-site management. Several community-wide improvements are planned as part of the renovation including free Wi-Fi access to all residents.
The properties' HUD subsidy was set to expire, but with CPP's involvement the homes will now remain affordable and prevent displacement of residents earning 60% of AMI until 2054.
"It's especially gratifying to preserve these affordable housing developments as they are in an underserved area," Bobby C. Griffith, CFO and Director of Acquisitions at JL Gray, the development's management company and owner.
Partners on the project include the New Mexico Mortgage Finance Authority, who is the bond issuer and awarded 4% low-income housing tax credits; KeyBank is providing the construction and debt financing through a forward under the Freddie Mac TEL program; and R4 will be providing equity financing.