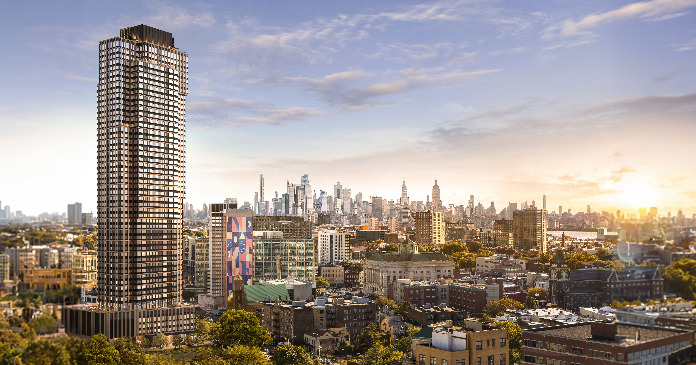 Panepinto Properties, a central player in shaping Jersey City's real estate landscape for nearly five decades, reaffirmed its pivotal role in the city's ongoing growth and vitality by breaking ground on a soaring 53-story residential tower in the historic and revitalized Journal Square neighborhood.
The transformative development, rising just steps from the Journal Square PATH station at 499 Summit Avenue, is poised to introduce 605 new rental residences to an area brimming with renewed vibrancy. In addition to well-appointed one-, two- and three-bedroom residences, the mixed-use project will include 3,200 square feet of retail space, a new landscaped public plaza, a parking garage with vehicle lifts, 304 bicycle parking spaces, and a wide range of lifestyle amenities and services. New York-based HLW International is the architect.
Panepinto is spearheading the $338 million endeavor in collaboration with AJD Construction, which is also responsible for the tower's construction. The development team expects the project to generate more than 2,300 development, construction, and operations jobs, with an anticipated  completion date in the second quarter of 2026. Construction financing was arranged by JLL Capital Markets.
499 Summit Avenue builds on the substantial investment pouring into Journal Square which is driving its remarkable revival as a business, arts, and shopping hub reminiscent of its former glory days.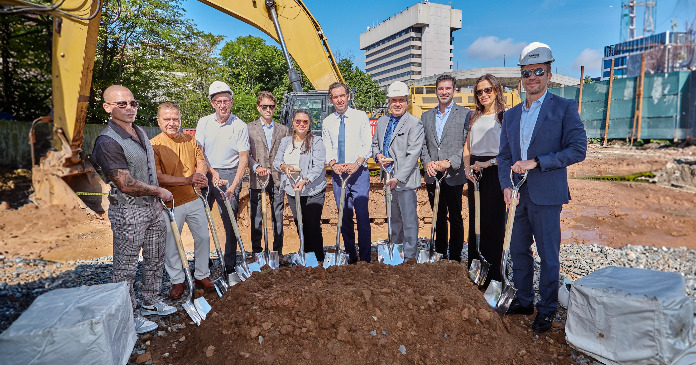 Principals of Panepinto Properties hosted Jersey City Mayor Steven Fulop, fellow municipal officials, and other dignitaries to mark the start of construction on the development and emphasize its role in further reinvigorating the Journal Square neighborhood, which is reclaiming its status as the heartbeat of the city. 
"As a company with deep roots in Jersey City, we are genuinely excited about the large-scale revitalization unfolding in Journal Square and are thrilled that we have this opportunity to further contribute to the neighborhood's historic resurgence," said Joseph A. Panepinto Sr., President & CEO of Panepinto Properties. "Today's groundbreaking represents the culmination of years of thoughtful planning and design, ensuring that this project not only provides new, modern residential options adjacent to public transportation, but also becomes a lasting neighborhood asset. We appreciate the support and guidance we have received from Mayor Fulop, the City Council, and all of the other agencies and individuals who share our vision."
Journal Square's allure lies in its diverse population, historic landmarks, and a vibrant fusion of culture, entertainment, and shopping The neighborhood's vitality is further enhanced by its exceptional connectivity, anchored by a robust transportation network centered around PATH service to lower and midtown Manhattan, Jersey City, Hoboken, and Newark.
The profound artistic connections found in Journal Square resonate harmoniously with Panepinto's fundamental mission of crafting distinctive properties that foster meaningful human connections and cultivate thriving communities within culturally significant neighborhoods. Through its Panepinto Fine Art division, the company serves as a vital bridge linking developers and artists, curating art collections that adorn residential, commercial, and hospitality properties.