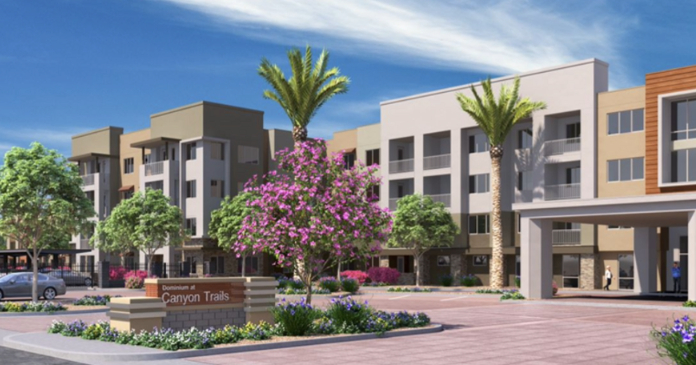 Dominium, a leading affordable housing owner, developer and manager announced that it will celebrate the groundbreaking of the Estrella Springs and Suncrest Vista at Canyon Trails affordable housing development in Goodyear, Arizona on Wednesday, October 25. There will be a short program with speeches, a golden shovel ceremony, followed by networking and refreshments.
This is Dominium's most ambitious project yet. As the developer's second project in the state of Arizona, the company will create 657 high-quality homes, making it their largest project and Arizona's largest development to date. Dominium also plans to incorporate features that benefit the local Goodyear Community for years to come. This includes landscaping improvements to cut down on water usage, art designed by local high school students and a flex space in the clubhouse available to local elementary school students to use.
Construction of Estrella Springs and Suncrest Vista at Canyon Trails will be supported by the Section 42 Low-Income Housing Tax Credit program (LIHTC). Nationwide, LIHTC is the largest source of support for the construction and maintenance of affordable housing communities. In exchange for tax credits, affordable housing developers and operators agree to maintain rents at levels tied to the Area Median Income (AMI). Construction of LIHTC properties has a positive effect on the local housing market through the simple fact of increasing the supply of affordable housing.
"It brings us great joy to begin construction of our largest project thus far," said Owen Metz, Dominium Senior VP and Mountain West Development Leader. "We set foot in Arizona to fill a need for high-quality affordable housing, and Estrella Springs and Suncrest Vista will do just that. Our commitment to helping families in need stands strong."
Dominium would like to thank its development partners, including JLL Real Estate Capital, Deutsche Bank, Bremer Bank, Colliers Securities and U.S. Bank whose assistance made this project possible. Additional partners include Authority of Maricopa County, City of Goodyear, Winthrop & Weinstine, Burch & Cracchiolo, Todd & Associates, Hunter Engineering, Commercial Partners Title, Kutak Rock, and US Bank as fiscal Agent. Dominium would like to thank all these partners for their assistance on this project, continued commitment to providing high quality affordable housing, and ongoing partnership with Dominium.