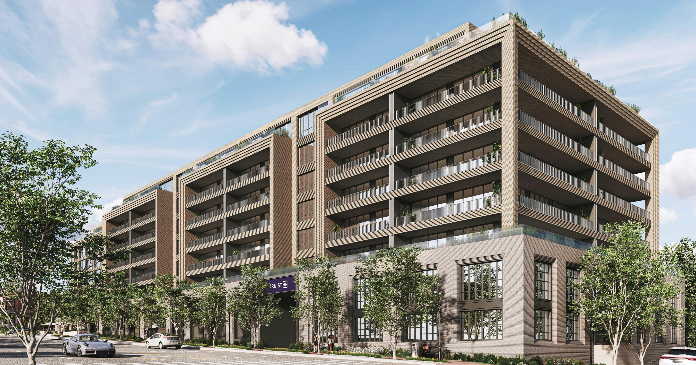 Douglas Elliman, one of the largest independent residential real estate brokerages in the United States, announced that the firm will be handling the sales and marketing for Ten501 at City Centre West. This is the first condominium project for Douglas Elliman since announcing its strategic expansion into the Metro D.C. area earlier last year.
"New development is a pillar of our business at Douglas Elliman, and we are proud to introduce Ten501 at City Centre West as our inaugural project in the Metro D.C. area," said Howard M. Lorber, Executive Chairman of Douglas Elliman. "This project will create a versatile mixed-use space for the community to experience for years to come. Our expertise in new development projects, coupled with our recent expansion into the region, makes this a truly exceptional opportunity for us."
Located in the historic city of Fairfax, Virginia, Ten501 will feature Roman brick, floor-to-ceiling glass doors leading to balconies/terraces and sustainable design elements such as electric vehicle charging stations and a green roof. Ranging from one- to three-bedroom layouts, select units will offer expansive balconies and terraces.
Amenities include a gym, rooftop pool, private dining room and outdoor living features. Each unit offers a dedicated parking space with the option of electric vehicle chargers available and private underground resident parking with security gate.
"City Centre West is not just a development: it's a testament to our vision for creating spaces that inspire and elevate communities," said Scott Durkin, President and CEO of Douglas Elliman. "With Jeremy and the Legato Group at the helm, we are excited to represent a project that not only pays homage to the past but also embraces the needs of today's dynamic lifestyles. With our proven track record in new development projects, we are poised to bring a fresh perspective to the region and look forward to witnessing the transformation of downtown Fairfax.
"My team and I are excited to bring Ten501, City Centre West, to the market and to represent Ox Hill Companies as the Metro D.C. region's first new development under the Elliman flag," said Jeremy Dalpiaz of Douglas Elliman. "Ox Hill is creating something new and bold for the City of Fairfax; these condominiums will be luxurious, spacious and well-appointed for a lifestyle of convenience."
Chris Smith, Managing Principal for Ox Hill Companies, said "Ten501 has been a five-year journey from concept to entitlement and we are proud to be partnering with Douglas Elliman on their inaugural Metro D.C. area project. We selected Douglas Elliman due to their outstanding reputation with luxury residential properties and as one of the largest independent real estate brokerages in the United States."
With historic brick buildings and sidewalks lining streets that lead to a variety of local restaurants, breweries and boutiques, Fairfax offers outstanding cultural amenities, as well as parks and bike paths. The location is a short drive to Washington, DC's cultural institutions, restaurants and performing arts, Dulles International Airport and Ronald Reagan Washington National Airport.