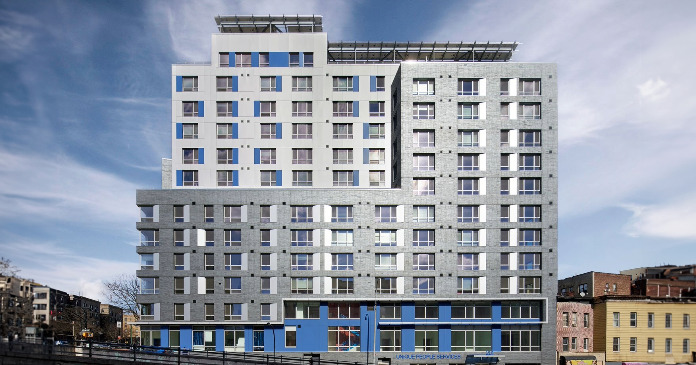 Governor Kathy Hochul announced the completion of 2050 Grand Concourse, an affordable and supportive housing development with 96 apartments in the Bronx's Fordham Heights neighborhood. The all-electric development was awarded funding from the State's Buildings of Excellence Competition, which aims to advance zero-carbon multifamily buildings in New York.
"With this new housing development in the Bronx, we're helping more New Yorkers access the high quality, supportive, and affordable housing they deserve," Governor Hochul said. "These 96 homes will not only transform lives and set residents on a path to stability and success, but thanks to the development's energy efficient design, we're also building a stronger, healthier, and greener community for all."
"2050 Grand Concourse is a critically important investment, providing opportunity and security to New Yorkers through access to affordable housing and essential services," said Lieutenant Governor Antonio Delgado.
In the last five years, New York State Homes and Community Renewal has created or preserved 14,700 affordable homes in the Bronx. 2050 Grand Concourse continues this effort and complements Governor Hochul's $25 billion comprehensive Housing Plan to create or preserve 100,000 affordable homes across New York, including 10,000 with support services for vulnerable populations, plus the electrification of an additional 50,000 homes.
Energy efficiency measures include high-performance exterior insulation; solar panels; Energy Star windows, lighting, and appliances; high-efficiency HVAC systems; low-flow plumbing fixtures; sustainable building products; construction waste management systems; low-VOC paints, solvents, and adhesives; and recycled building materials.
In addition to the 96 apartments, the building includes a 10,000-square-foot community facility space that serves as the new headquarters for Unique People Services, Inc., a Bronx-based nonprofit organization that will provide social services for residents and the broader community.
There are 58 apartments reserved for adults who have access to on-site supportive services such as care coordination, vocational training, transportation, food and nutrition education, health promotion and education, home-making assistance, and counseling.
Rental subsidies and services for 28 supportive units are funded through an Empire State Supportive Housing Initiative award administered by the New York State Office of Mental Health and 30 units are funded through an HIV/AIDS Services Administration award administered by the New York City Human Resources Administration.
The remaining apartments are affordable to households earning at or below 80 percent of the Area Median Income. Residential amenities include a large community room with kitchen, a laundry facility, storage rooms, and two landscaped rooftop terraces.
The developers are Unique People Services and Robert Sanborn Development.
State financing for the $61.4 million development included $7.4 million in permanent tax-exempt bonds, $21.3 million in federal Low-Income Housing Tax Credits, and $21.2 million in subsidy from New York State Homes and Community Renewal. The New York State Office of Temporary and Disability Assistance provided $5.5 million from the Homeless Housing and Assistance Program. OMH provided startup expenses for the ESSHI units totaling $253,000. NYSERDA provided $77,600 through the Multifamily New Construction Program, $136,000 through the Real-Time Energy Management Program, and $49,300 in funding through NY Sun's Multifamily Affordable Housing Incentive. The Local Initiatives Support Corporation provided $1.9 million.
Official Commentary
Homes and Community Renewal Commissioner RuthAnne Visnauskas said, "This highly sustainable and affordable housing development will be transformative for nearly 100 households and the entire Fordham Heights community. Through Governor Hochul's aggressive climate action agenda, and with support from programs like the Buildings of Excellence Competition, we are building climate-friendly homes in places like the Bronx that have been disproportionately impacted by climate change. 2050 Grand Concourse will undoubtedly improve lives and move us closer to our goal of achieving a greener New York for the future."
NYSERDA President and CEO Doreen M. Harris said, "Visionary projects like 2050 Grand Concourse are contributing to New York's low carbon future by demonstrating that buildings that are healthy and energy efficient can be beautiful and better for families to live and work in. With the inclusion of renewable solar energy, heat pump technology and other energy efficient features, we are creating housing that promises a stronger, cleaner and more equitable New York today and for the future."
Office of Mental Health Commissioner Dr. Ann Sullivan said, "Governor Hochul's commitment to supportive housing is providing thousands of individuals and families with safe, affordable, stable homes with the integrated services they need to live and thrive in their own community. 2050 Grand Concourse is a beautiful addition to Fordham Heights, and OMH is proud to have played a role in its development."
Office of Temporary and Disability Assistance Acting Commissioner Barbara C. Guinn said, "Under Governor Hochul's leadership, New York State is taking action to increase the supply of supportive and affordable housing throughout the state. This Grand Concourse development will provide homes for individuals who have experienced homelessness at a location that will provide residents with on-site access to supportive services provided by Unique People Services to promote their long-term housing stability."
Majority Leader Charles Schumer said, "Every New Yorker deserves access to safe, affordable housing. That's why I'm proud to support the federal funding, including $21.3 million in Low-Income Housing Tax Credits, that provides affordable housing in the Bronx with support services for residents, including care coordination, vocational training, transportation, and more. I applaud Governor Hochul for delivering more affordable and supportive housing and I'll continue to fight for and deliver funds that strengthen our communities and help provide New Yorkers with more housing options."
Representative Ritchie Torres said, "The completion of 2050 Grand Concourse is a remarkable testament to our commitment to affordable and supportive housing in the Bronx. This development not only provides 96 much-needed affordable apartments to the Fordham Heights neighborhood but also extends crucial support services to vulnerable populations, reflecting our dedication to creating inclusive communities. I want to commend Governor Kathy Hochul's comprehensive Housing Plan, which has played a pivotal role in making this initiative possible. 2050 Grand Concourse stands as a beacon of hope, embodying our collective efforts to build a more equitable and compassionate New York for all."
New York State Senator Luis Sepúlveda said, "The completion of 2050 Grand Concourse is a monumental achievement in our pursuit of sustainable and affordable housing in the Bronx. This development not only provides a safe and energy-efficient home for many but also stands as a testament to New York State's commitment to supporting communities through innovative and environmentally conscious initiatives. The successful collaboration between state agencies, local organizations, and developers exemplifies what we can accomplish when we work together towards a common goal of bettering the lives of our residents."
Assemblymember Yudelka Tapia said, "For our district, 2050 Grand Concourse is a true game-changer. With 96 affordable apartments, a strong emphasis on sustainability, and support services, it's a powerful resource that will significantly improve the lives of those living in the 86th district of the NYS Assembly. In addition, the 58 units designated for single individuals with on-site supportive services—supported by grants from the HIV/AIDS Services Administration and the Empire State Supportive Housing Initiative—showcase our commitment to meeting particular community needs. Our dedication to sustainability and energy efficiency is further demonstrated by this project, which includes features like solar panels, Energy Star appliances, and high-performance insulation. By investing in green technologies, we are not only providing affordable housing but also reducing our environmental impact."
Bronx Borough President Vanessa L. Gibson said, "With housing insecurity on the rise, the need for stable housing has only increased. I want to thank Governor Kathy Hochul, the New York State Homes and Community Renewal, NYSERDA, New York State Office of Temporary and Disability Assistance, Unique People's Services, and Robert Sanborn Development for their work on this project and commitment to bringing affordable and energy efficient, safe housing to our borough."
Executive Director and CEO of Unique People Services Yvette Brissett-Andrè said, "Unique People Services is proud of our 2050 Grand Concourse residence and commitment to serving our fellow New Yorkers. We will continue to develop and provide quality, sustainable, affordable housing through the partnership of our public and private funders."