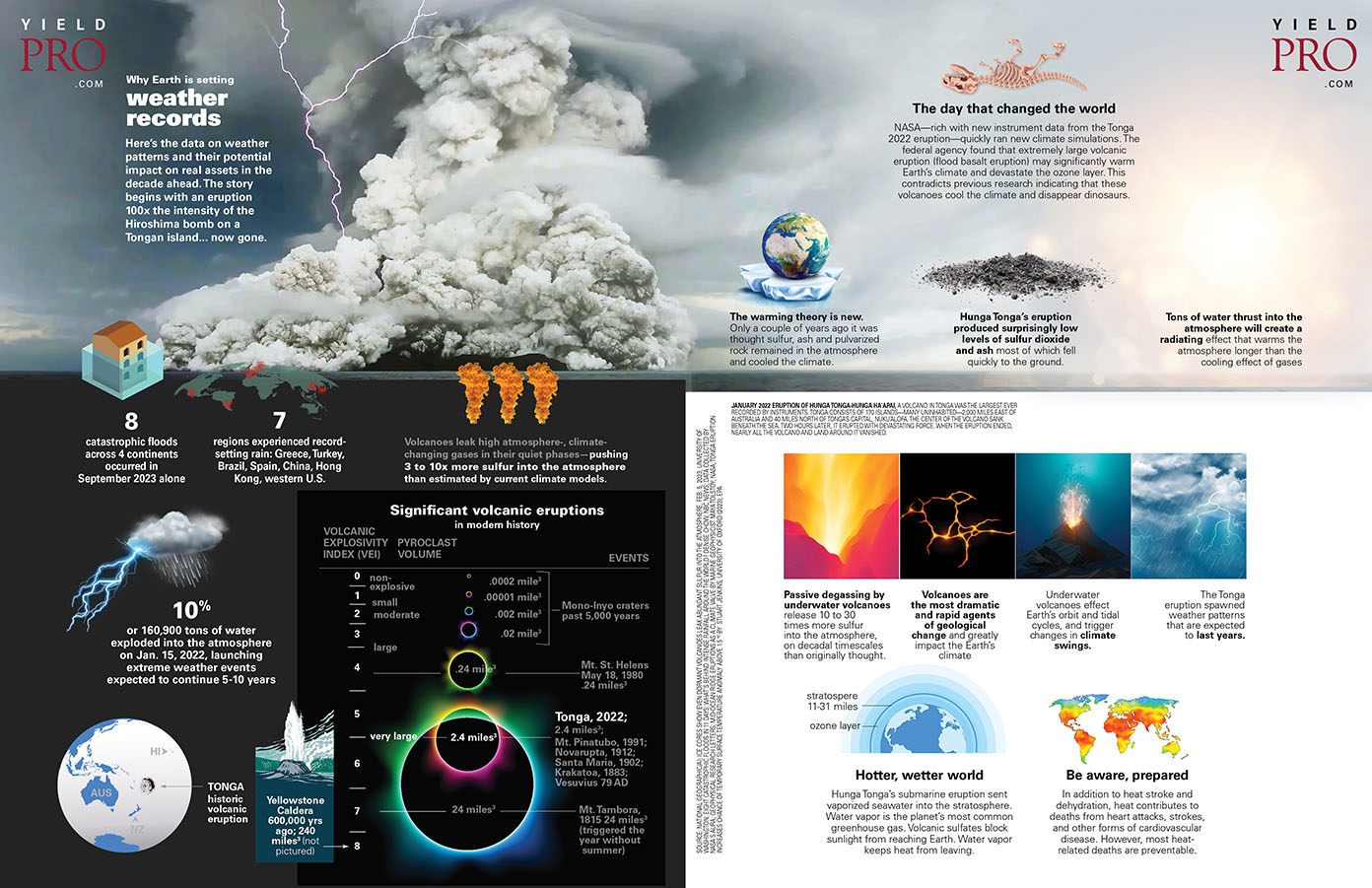 Why Earth is setting weather records
Here's the data on weather patterns and their potential impact on real assets in the decade ahead. The story begins with an eruption 100x the intensity of the Hiroshima bomb on a Tongan island… now gone.
8 catastrophic floods across 4 continents occurred in September 2023 alone
7 regions experienced record-setting rain: Greece, Turkey, Brazil, Spain, China, Hong Kong, western U.S.
Volcanoes leak high atmosphere-, climate- changing gases in their quiet phases—pushing 3 to 10x more sulfur into the atmosphere than estimated by current climate models.
10% or 160,900 tons of water exploded into the atmosphere on Jan. 15, 2022, launching extreme weather events expected to continue 5-10 years
Significant volcanic eruptions in modern history
Mono-Inyo craters past 5,000 years
Mt. St. Helens May 18, 1980 .24 miles3
Tonga, 2022; 2.4 miles3; Mt. Pinatubo, 1991; Novarupta, 1912; Santa Maria, 1902; Krakatoa, 1883; Vesuvius 79 AD 
Mt. Tambora, 1815 24 miles3 (triggered the year without  summer)
Yellowstone Caldera 600,000 yrs ago; 240 miles3 (not pictured)
The day that changed the world
NASA—rich with new instrument data from the Tonga 2022 eruption—quickly ran new climate simulations. The federal agency found that extremely large volcanic eruption (flood basalt eruption) may significantly warm Earth's climate and devastate the ozone layer. This contradicts previous research indicating that these volcanoes cool the climate and disappear dinosaurs.
The warming theory is new. Only a couple of years ago it was thought sulfur, ash and pulverized rock remained in the atmosphere and cooled the climate.
Hunga Tonga's eruption produced surprisingly low levels of sulfur dioxide and ash most of which fell quickly to the ground.
Tons of water thrust into the atmosphere will create a radiating effect that warms the atmosphere longer than the cooling effect of gases
JANUARY 2022 ERUPTION OF HUNGA TONGA-HUNGA HA'APAI, A VOLCANO IN TONGA WAS THE LARGEST EVER RECORDED BY INSTRUMENTS. TONGA CONSISTS OF 170 ISLANDS—MANY UNINHABITED—2,000 MILES EAST OF AUSTRALIA AND 40 MILES NORTH OF TONGA'S CAPITAL, NUKU'ALOFA. THE CENTER OF THE VOLCANO SANK BENEATH THE SEA. TWO HOURS LATER, IT ERUPTED WITH DEVASTATING FORCE. WHEN THE ERUPTION ENDED, NEARLY ALL THE VOLCANO AND LAND AROUND IT VANISHED.
Passive degassing by underwater volcanoes release 10 to 30 times more sulfur into the atmosphere, on decadal timescales than originally thought.
Volcanoes are the most dramatic and rapid agents of geological change and greatly impact the Earth's climate
Underwater volcanoes effect Earth's orbit and tidal cycles, and trigger changes in climate swings.
The Tonga eruption spawned weather patterns that are expected to last years.
Hotter, wetter world Hunga Tonga's submarine eruption sent vaporized seawater into the stratosphere. Water vapor is the planet's most common greenhouse gas. Volcanic sulfates block sunlight from reaching Earth. Water vapor keeps heat from leaving.
Be aware, prepared In addition to heat stroke and dehydration, heat contributes to deaths from heart attacks, strokes, and other forms of cardiovascular disease. However, most heat-related deaths are preventable.