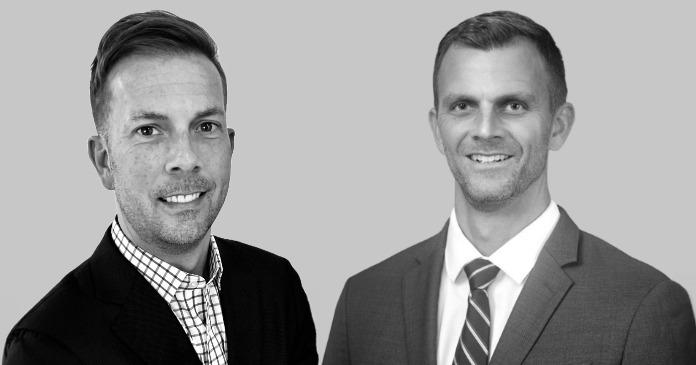 JLL Capital Markets announced that Managing Directors Cliff Taylor and Joe Ayers have joined the firm's Jacksonville, Florida office to lead its multi-housing investment sales advisory efforts across northern Florida and South Georgia. Bringing a combined industry experience of 40 years, the duo will be a part of the firm's unified North-Central Florida Multi-Housing Investment Sales Advisory team.
Taylor and Ayers will work alongside their North-Central Florida counterparts in Orlando, Directors Ted Taylor and Kyle Butler, as well as Managing Director Zach Nolan and Director Drew Jennewein in Tampa. They will report to Senior Managing Directors Melissa Quinn and Lee Weaver, who serve as the North-Central Florida leads for JLL Capital Markets.
Taylor and Ayers' primary markets of focus will include the Jacksonville metro, Gainesville and Tallahassee, as well as the Florida Panhandle and Brunswick and Savannah, Georgia.
"We are thrilled to announce the addition of Joe, Cliff and their team to our North-Central Florida Multi-Housing group," said Quinn. "Their extensive knowledge and experience within the region make them invaluable resources in rounding out our presence throughout North-Central Florida."
Prior to joining JLL, both Taylor and Ayers were Senior Vice Presidents within CBRE's Jacksonville, Florida office, serving as co-leads of the firm's Jacksonville Multifamily Investment Properties group. Since joining CBRE in 2003, Taylor has represented REIT's, hedge funds, private equity firms, private syndicators, developers and individual investors throughout several southeast markets. Ayers joined CBRE's Jacksonville multi-housing team in 2017 and has most recently focused on the execution of disposition strategies for institutional and private clients throughout North Florida, Florida's Panhandle and southeast Georgia.
"We are honored to be part of an organization of JLL's caliber and to continue to execute the business needs of our clients. JLL is an incredibly collaborative organization with world-class professionals across both the debt and sales platform, and our ability to work alongside them all, for the betterment of our clients, is both exciting for and critical to our business," said Taylor.
"Our main priority is serving our clients, and we are excited to join a platform like JLL that will enable us to do so at the highest level," added Ayers.
Alongside Taylor and Ayers, Directors Ryan Hixon and Tucker Brooks have also moved to JLL Capital Markets' Jacksonville multi-housing team from CBRE. Hixon will also focus on multi-housing investment sales advisory in northern Florida and South Georgia, while Brooks will continue his specialized concentration on land sales within the multi-housing sector throughout North-Central Florida.
"We are very excited to have Cliff, Joe and their team join us to further enhance our North-Central Florida Team and bolster our presence within the largest transaction volume market in the country," said Executive Managing Director and Investment Sales Advisory Platform Leader Matthew Lawton.
Additionally, Associate Mike Scott and Production Associate Elizabeth Pippin have also joined the JLL Capital Markets team in Jacksonville from CBRE.