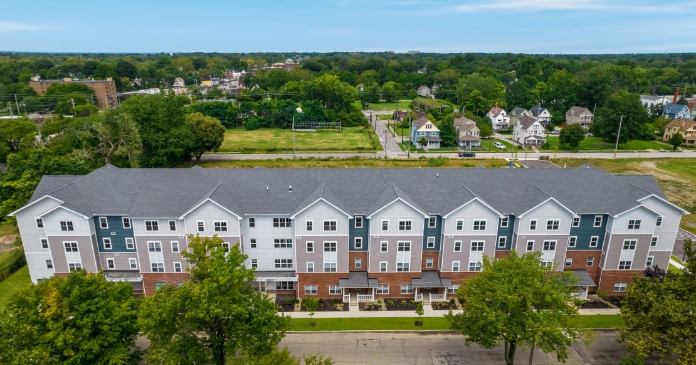 Local Cleveland officials joined The NRP Group, a vertically integrated, best-in-class developer, builder and manager of multifamily housing, and University Hospitals, one of the nation's leading health care systems, for a ribbon-cutting ceremony to celebrate the grand opening of The Davis Apartments, a 52-unit affordable housing apartment community, and the UH Community Wellness Center in Cleveland's Glenville neighborhood.
The community is The NRP Group's third "Health and Housing" development, conceived to address social determinants of health (SDOH). The first project, Residences at Career Gateway in Columbus, Ohio, opened in 2018; the second, Via Sana in the Clark-Fulton neighborhood of Cleveland opened in 2022. Each of these affordable housing communities was created in partnership with the City of Cleveland, leveraging cross-sector collaboration, and aiming to address historic neighborhood disinvestment through new construction. This is the second of UH's Community Wellness Centers; the first opened in Bedford, Ohio, earlier this year.
"The history of University Hospitals as an anchor institution in this community dates back 155 years," said Dr. Daniel Simon, President, Academic & External Affairs and Chief Scientific Officer at University Hospitals. "We're proud to celebrate the completion of this community, and grateful to have had an opportunity to partner with The NRP Group. By providing high-quality housing and supportive services to its residents, The Davis enables our hospital staff to reach beyond our four walls to address SDOH in a historically disinvested neighborhood. This directly aligns with our institution's mission: 'To Heal. To Teach. To Discover.'"
The Community Wellness Center serves as a venue for UH caregivers to engage with Glenville residents by delivering preventive health care and other solutions addressing SDOH. The center's offerings include healthy cooking demonstrations, a Food For Life Market, support for pregnant women and young mothers, programs to combat senior citizen isolation, telehealth services and training in workforce and financial literacy.
Amenities at The Davis include a community room, a fitness center, laundry facilities, a playground, a business center, trash/recycling rooms on each floor, a pet-friendly atmosphere and controlled access for added security.
Glenville is located less than a mile from University Circle, home to Case Western Reserve University, the Cleveland Clinic, the Cleveland Museum of Art and the Cleveland Museum of Natural History, as well as shops, restaurants and grocery stores. The Davis' proximity to these anchor institutions and employment opportunities lays a strong foundation for making these centers of learning and jobs accessible to individuals of all income levels.
"We acknowledge that a substantial portion of the direct medical costs for our Black, Latinx, and Asian-American neighbors are avoidable and related to health inequities. Today, the UH wellness center at Glenville is one way we are working to change that," said Celina Cunanan, Chief Diversity, Equity & Belonging Officer, at University Hospitals.
Funding for the project, which was designed by RDL Architects, was provided by Ohio Finance Housing Agency (OHFA), as well as RiverHills Bank and PNC Bank.
"The NRP Group is dedicated to creating affordable communities that provide residents with opportunities for long-term success," said J. David Heller, President and CEO of The NRP Group. "We wouldn't be standing here at The Davis today without the tireless efforts of City of Cleveland officials and University Hospitals staff."
The Davis is named after Harry E. Davis, a Cleveland native who served four consecutive terms in the Ohio State House before becoming the first African American member of the Cleveland Civil Service Commission and serving as an Ohio State Senator.