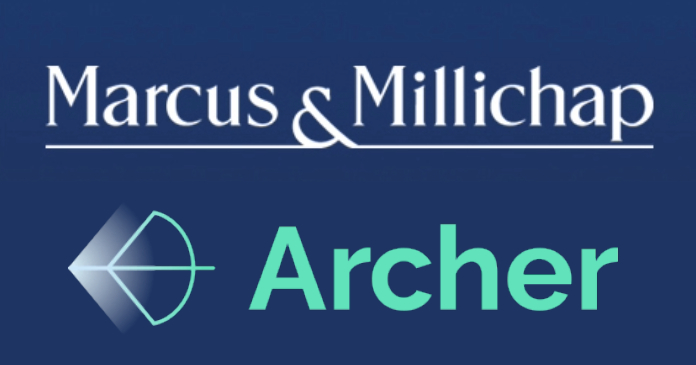 Marcus & Millichap, a leading commercial real estate brokerage firm specializing in investment sales, financing, research and advisory services, announced a strategic partnership that includes an equity investment and commercial relationship with Archer, a venture-backed real estate technology company.
Richard Matricaria, Marcus & Millichap's chief operating officer, Western Division, stated: "Our relationship with Archer is one of the ways we continue to stay on the leading edge within the proptech space. We value Archer's technology and the strategic benefits they provide our brokers and clients and took the opportunity to expand our partnership with an equity investment."
"Combining our market-specific data and underwriting tooling with Marcus & Millichap's 52-year history of technological innovation and market research is part of our mission to make real estate transactions more efficient through better data, technology, and local expertise," said Thomas Foley, Archer's cofounder and CEO. "Our platform supercharges investment sales professionals by reducing the time required to complete a first underwriting from days to minutes. This gives brokers and their investor clients more time to spend on important analysis to achieve their long-term strategic goals of winning more deals."
Founded in 2019, San Francisco-based Archer recently expanded its underwriting platform from multifamily to student and affordable property types and plans to launch other property types including, retail, office, industrial, and hospitality in 2024. The company provides software tools via a web-based application and directly in a client's Excel model, training sessions and on-demand support.
"Marcus & Millichap's history of adapting the benefits of emerging technologies to serve commercial real estate investors aligns with Archer's predictive analytics and investor-centric approach," said Matricaria. "As a customer and also an investor in Archer, we look forward to extending the benefits of this strategic partnership to our brokers and clients."