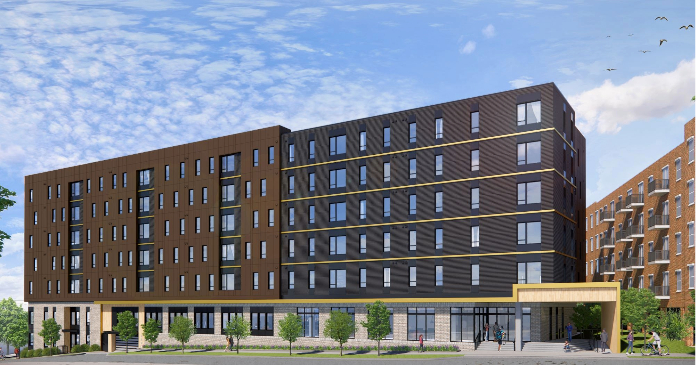 Subtext, a national real estate company, is thrilled to announce the launch of their second property at Purdue University, a testament to their commitment to providing exceptional housing solutions for the growing student population. Subtext and Brinkmann Constructors, a national general contractor, hosted an official groundbreaking ceremony in mid-October for a 245,700-square-foot student living project at 143 W Wood St. in downtown West Lafayette. The project is slated to deliver in August 2025.
As the demand for well-located, highly-amenitized student living continues to grow, the new complex will provide residents with quick and convenient access to both downtown West Lafayette and the greater campus community.
The building, designed by ESG Architecture and Design, a Minneapolis-based architecture firm, features design that is the perfect blend of bold and refined, energetic and warm, natural and colorful. The building includes more than 15,000 square feet of total amenity space focused on student well-being. The expansive facility will feature a wide array of modern amenities, including a coffee bar, club room, study rooms, fitness center, pet grooming area, pool, spa and dog run.
"With record-breaking enrollment figures at Purdue, the need for innovative, community-focused student housing has never been more pressing," said Brandt Stiles, Founder & CEO, Subtext. "Our commitment goes beyond creating extraordinary spaces. We understand that a successful and memorable college experience is shaped by more than just four walls. That's why we're dedicated to providing innovative and intentional property design that is complemented by thoughtfully curated programming. We take immense pride in knowing that our property will be a significant part of hundreds of Purdue students' college stories. With every decision we make, we write our part in their journey with unwavering intention."
"We're excited to be building another student housing community to benefit the Purdue University students in a coveted location, just blocks from the campus," said Brian D. Satterthwaite, President of Brinkmann Constructors. "Together with Subtext, we have been able to create communities where students want to live, learn, and make lasting memories."