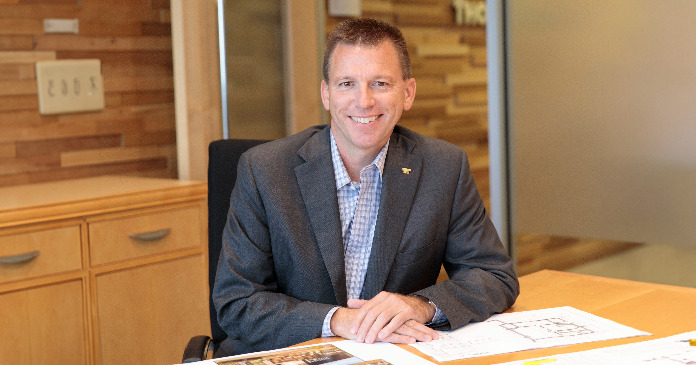 Paul Thrift, CEO of Thompson Thrift, a full-service nationally recognized real estate company and one of the nation's leading multifamily developers, was recognized by the Indiana Chamber of Commerce as the Ogletree Deakins Business Leader of the Year, a statewide honor presented to an Indiana business leader whose work has significantly contributed to the state.
"Being selected as the Ogletree Deakins Business Leader of the Year is truly a humbling distinction," said Paul Thrift, CEO of Thompson Thrift. " To me, this recognition is a testament to the dedication of our team, as we collectively embrace our fundamental values of excellence, service and leadership, all geared towards positively impacting each other and the communities we serve."
While the company's growth will see them enter two new states in the next year, Thompson Thrift remains active in its home state with the $550 million expansion of Fishers District in the Indianapolis suburb of Fishers. Once completed, the $750 million development will span 123 acres and will be comprised of five distinct developments offering an array of multifamily, townhome, hotel, dining, shopping and entertainment options. The developments will be connected by well-designed walking paths that will offer residents and visitors the opportunity to explore the master-planned development on foot.
The Ogletree Deakins Business Leader of the Year is just the latest honor for Thrift. Earlier this year, Thrift was recognized as one of Indiana's most influential individuals for the second consecutive year in the Indiana Business Journal's Top 250 list. The company has also been honored several times throughout the year. In February, the firm was the recipient of a 2023 Top Workplaces USA award, which recognizes the top organizations across 60 markets. In May, The Indianapolis Star named Thompson Thrift a winner of the Central Indiana Top Workplaces 2023 Award. In June, the company won the National Apartment Association's 2023 Excellence Award in the #NAAGives category, along with the prestigious BEST Award, the talent development industry's most coveted recognition, from the Association for Talent Development.