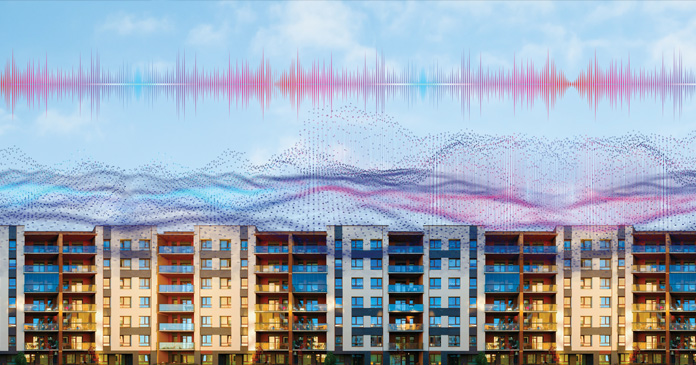 Early adopters in multihousing and other industries are using AI to have daily conversations with their databases to mine business insights—freeing them up from keyboards forevermore.
The capability—to talk with your database each morning to glean insights on how to further maximize your profits each day—may seem like sci-fi to some.
But for those in the know, chatting daily with their databases—as if they're talking with Siri, Alexa, Google Assistant, or a similar voice interface system—has become second nature.
"The most significant benefit of an AI-powered voice query system is gaining insight without sifting through heaps of information or spending hours conducting research. This saves your team a tremendous amount of time," said Jobe Peterson, owner, The Listing Real Estate Management.
Another major perk "is that AI is not just an expert in one area," Peterson said. "AI can be used in various ways within your property management operations and specific departments, from accessing tenant ledgers to rental owner balances—or even helping with legal compliance within landlord/tenant law."
In practice, voice-accessible systems can theoretically enable staff in virtually every department of your multihousing business to access your company database for their specific needs.
These systems are also able to offer those employees very quick access to that data— whether they want to ask a few questions to round-out some research they're doing, or grab some fast insights before heading off to an important meeting.
"You don''t have to spend hours going through spreadsheets and searching through emails. You can just ask your database whatever questions are on your mind—and get answers in seconds," said Ari Chanzanas, CEO, Lotus West Properties. "It's like having a personal assistant who can answer any question you throw at it. You have your own little Siri, who knows all the ins-and-outs of your business."
In all cases, the over-arching change these voice access systems bring to your multihousing business is nothing less than the very democratization of data insights.
A new day in data access
Gone are the days when employees were limited to only those data insights available from data reporting that was preconfigured into the company's software. No longer must employees wait days or weeks for a custom data analysis report that they requested from the business' data scientist.
Instead, employees using the most robust of voice query data systems can now get very creative using company data.
They can devise their own questions, whether they thought-up those questions a month ago—or a minute ago.
And they can use the insights gleaned from the answers they receive to power highly informed—and often highly original—solutions to any given problem or challenge.
"The days of complex, certified-expert-only software are numbered," said Jon Reilly, co-CEO, Akkio, a data analysis firm that offers voice query access.
Self-serve tools dispense knowledge
"The era we're entering? User-friendly, self-serve tools that give people leverage."
Moreover, getting your existing multihousing business database to work with voice query can be relatively easy.
Numerous AI-powered voice query systems have already been designed to seamlessly interface with commonly used business intelligence systems like Snowflake, Power BI, Pentaho Analysis and Microsoft SQL Server.
If your multihousing business is already using one of those business intelligence systems, you should be able to easily convert your access to its data and analysis to voice.
Most voice access systems are also often extremely robust. No matter how much information your business currently has stored in its database, there's a good chance the AI-powered voice query system you choose can work with that data.
Even with millions of rows of data in an SQL or non-SQL database system, the right AI-powered voice query system should be able to easily handle it.
Plus, many AI-based voice query systems are also able to serve-up all the typical charts, graphs and other visuals that you've become accustomed to seeing with your keyboard-driven business intelligence system.
Even better. The meteoric rise of ChatGPT in 2023—the now world-famous natural language query system—has made adding voice access to a company database markedly simpler.
The reason? With ChatGPT, multihousing businesses are no longer limited to seeking voice query access expertise from the handful of IT firms that have specialized in the tech during the past few years.
Instead, they can now choose to work with any number of specialists in ChatGPT and similar tech instead—experts who can also develop a voice access system for their database.
Granted, ChatGPT is currently best known as a conversational data query system that is triggered by text input.
But it's easy to bolt-on voice query to ChatGPT and similar tech—as evidenced by the growing number of voice-input plugins for ChatGPT including Voice-Control-for-ChatGPT and Talk to ChatGPT.
Moreover, given that the ChatGPT website is currently enjoying 1.6 billion visits-per-month—according to ToolTester—it's a good bet that the mother lode of AI programmers  are already specializing in custom programming for ChatGPT and related AI tech.
Indeed, ChatGPT-maker OpenAI itself is among the growing cadre of firms looking to help pair ChatGPT natural language query system with proprietary business databases.
It has partnered with computer programming firm Scale AI to help multihousing businesses and others fuse ChatGPT tech with their businesses.
"An incredible amount of value comes from fine-grained optimizations" of ChatGPT tech paired with a business' proprietary database, said Alexandr Wang, CEO, Scale AI, regarding his company's ChatGPT customizations.
Along with the myriad advantages of voice access to a database, there are some caveats to consider before going all-in.
Ensure, for example, that the AI voice system you're evaluating offer true access to actual analysis of the data in your system—and not simply easy answers to a limited number of easy questions.
And there's also a good chance staff training on how to talk with your database will be necessary.  Such training is needed to ensure that employees avoid conversing with your data system in ways that can yield unexpected, hard-to-understand—or even misleading— results from a voice query system.
"We assign training to employees based on the technology they utilize to guarantee proper usage," said Peterson. "Any tech or AI tool implemented into your operations is only as good as the person using the tool. If proper implementation and training is not provided to personnel, it won't matter how revolutionary the tech is—the tool is ultimately useless."
Security risk in voice query
Unfortunately, voice access to a database makes it much easier for a competitor to hack into your computer system overnight and ask endless questions about the data you have stored there.
Voice access may also tempt an unethical employee to sell access to your company data over the phone. It's fairly easy, after all, to invite a competitor to call in to your business and see how things are going by talking with your database to their heart's content.
Make sure there are guardrails in place to prevent outsider access to any voice query system that is adopted.
Bottom line: Granted, there are a number of potential pitfalls to consider when bringing a conversational database system on board.
But the numerous advantages offered by easy voice access to company data and analysis have inspired a number of early adopters to bring the AI tech in-house, just the same.
Some of the voice-query access software out there include Genesys, Coruzant, Acuvate and Iovox.
Google "ChatGPT voice query access expert database programmer" to explore the options offered by a ChatGPT-based voice query system, as well.
---
Author Joe Dysart is an internet speaker and consultant